Grilles and gates are security features fitted at entryways and fenestrations of buildings. Historically, metals such as wrought iron, cast iron, mild steel and bronze are construction materials favoured for their strength, lightness and workability. Gates and fences function to secure compounds whilst allowing some visual permeability. Grilles at windows and doors allow these to remain open for light and ventilation. While keeping out unwelcome visitors – such as at the ground floor openings of shophouses and townhouses with constant exposure to passersby. Also commonly found on historic military facilities, these often took the form of simple rods and flat bars. Here are the things that you should know about shophouse grille in Singapore.
SHOPHOUSE GRILLE, GATE, AND FENCE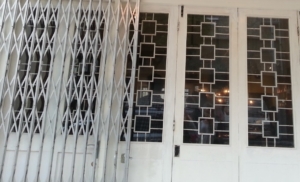 Collapsible Gates
More elaborate and ornate gates and fencing could be seen at well-appointed European-style buildings. It also buildings of religious and charitable organizations supported by wealthy families. Examples include Chinese temples such as Thian Hock Keng's iron fence, the former Tao Nan School (now Peranakan Museum) and the Convent of the Holy Infant Jesus (now CHIJMES). The surfaces of such cast iron products are sometimes painted in different colours or even gold-gilded.
Shophouse Grille: Bostwick Collapsible Gates
Collapsible or expanding steel gates, also widely known as 'Bostwick gates' after the original UK patentees Bostwick Gate Shutter and Co. Ltd. It could be found here as early as the 1900s, especially at commercial, government, and other premises where security was a key concern. Two sets of collapsible gates may be found still in their original locations in the former Tanjong Pagar Railway Station (1932) between the main hall and the platforms.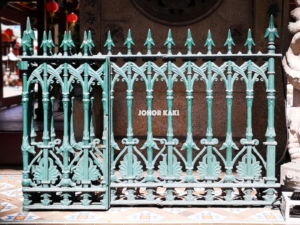 Ornamental cast iron fencing and gates at Thian Hock Keng (from Scottish foundry Walter MacFarlance & Co.)
These ornate imported metal elements contributed to the rich and eclectic building styles that characterized bustling trading posts and colonial cities of the era where migrant communities of varied cultures freely borrowed, adapted and exchanged goods, culture and trends.
The postwar years saw mild steel grille gain popularity – given its malleability, thin flat bars between 2.5 and 4mm thick could be worked by local artisans without special equipment to a wide variety of grille designs, and were more affordable than cast or wrought iron ones. The flat bars were bent and shaped using preformed moulds, and joints between members were skillfully welded creating a seamless design. In the 1970s and 1980s, expressive custom mild steel designs were gradually replaced by standard prefabricated aluminium lattice grilles.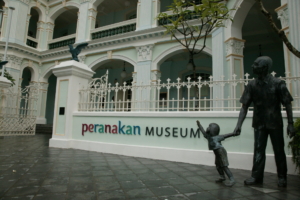 Iron fencing and gates of Tao Nan School (1912, now Peranakan Museum)
Shophouse Grille: Common Deterioration, Causes and Diagnostics
1.Corrosion
Corrosion is the most common form of defect found on metals. It is particularly damaging for ferrous metals, which undergo oxidation in the presence of air and water to form a layer of reddish iron oxide on the surface. The rust layer is uneven, patchy, friable and also permeable, so the metal underneath will continue to undergo oxidation with exposure to moisture and air. In severe cases, such as on a thin decorative panel, the rust can bore a hole through the metal and compromise the element's structural integrity.
2.Inappropriate Maintenance
Deterioration of metal doors, windows, grilles and gates is often caused by inappropriate maintenance works, especially repainting of rusted iron or steel frames without thorough removal of existing paint layers and surface rust. As paint ages it cracks and delaminates, often trapping moisture when exposed to rain or leaving the metal surface vulnerable to oxidation. Existing paint layers also need to be taken out to enable thorough rust removal.
3.Shophouse Grille: Overpainting
Furthermore, overpainting, or successive building up of paint layers, will obscure decorative details and affect the appearance of these feature doors and windows. It may also distort the shape and profile of the door or window frame, or reduce the spacing at joints, causing the door or window to become jammed and inoperable.
4.Cast-Iron Components
Cast-iron components break and snap off more easily compared to steel or wrought iron, being less ductile and more susceptible to shearing force. On the other hand, wrought iron and steel gates tend to warp and twist out of shape upon impact.
5.Copper-Based Materials
For copper-based materials such as bronze, unlike iron oxidation or rust, copper patina forms a protective layer for the underlying metal and is prized for its aesthetics. Organic stains from animal droppings and inappropriate patching may, however, damage the patina and metal. A common manmade damage causing loss of heritage character and value is the expedient removal and replacement of historic mild steel windows with aluminium frame
windows, citing a lack of available skills and materials. In fact, there are local specialist metalwork builders who are
able to carry out conservation repairs, source for matching salvaged materials and even produce replicas.
Common symptoms and defects on metal doors, windows, grilles and gates to look out for include the following:
1.Oxidation and corrosion.
2.Failing beading and sealant, broken or dislodged glazing that needs to be replaced to ensure weather tightness.
3.Constant exposure to moisture and corrosive conditions such as from ponding, leakage, droppings (acidic), cement stains (alkaline), etc., that may lead to further deterioration.
4.Improper welding often leads to corrosion and broken elements.
5.Exposed fasteners, including bolts and nuts, especially in moist conditions may corrode over time or due to galvanic and crevice corrosion.
6.Failing paint and coating meant to impart protection to the metal surface. Mechanical abrasion due to usage, particles, water and so on overtime may wear off the surface protection layer, leaving the core material vulnerable.
7.Joints between parts or with other structures where differential thermal expansion may cause fatigue failure, creep and stress-induced damage.
8.Compromised operation of movable parts that may be due to dislodgement, corrosion, overpainting, debris etc.
Shophouse Grille: Conservation, Intervention and Maintenance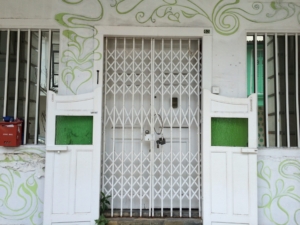 Apart from conservation intervention on the metal elements, for longterm protection, root causes such as moisture, abrasion and galvanic corrosion must be properly diagnosed and resolved.
1.Copper-Based Materials
Copper-based materials such as bronze may be cleaned using a soft brush of natural material, low-pressure water jet to remove stains, and non-ionic soap only where necessary. The surface should then be rinsed and inspected for active corrosion. Anti-corrosion benzotriazole may be used but only with extreme care and protective measures in place, as it is a known carcinogen. Final protective treatment is then carried out by coatings of wax, varnish or lacquer.
2.Shophouse Grille: Aluminium-Based Material
Aluminium-based material is in general softer and should not undergo abrasive treatments such as sandblasting. It may be washed with chemical cleaners, though strong alkaline or acidic cleaners should be avoided. The appropriate cleaner and method depends on the specific aluminium production, alloy or finish and should be derived through trial cleaning. Once cleaned, it should be protected by coatings of wax, varnish or lacquer.
3.Ferrous Material
Ferrous material – removal of paint, rust and residue should be carried out using the appropriate method for the specific material and finish, usually sandblasting and wire-brushing, to a near-white finish. A zinc-rich primer should then be applied immediately after as a protective layer cutting off contact with air and moisture.
4.Recoating
Recoating for ferrous metals may be carried out using polyurethane, epoxy, alkyd and zinc silicate paint, depending on the historic finish or colour to be reinstated. Application can be done by roller, brush, spraying, air spraying and so on.
5.Filling
Filling may be done to even out minor surface defects such as cracks and holes using a suitable metal filler, prior to application of the final coating.
6.Cold Stitching
Cold-system mechanical keyed repair method, or cold stitching, is recommended for cast iron repair of cracks or attaching broken or replacement parts. Profiled grooves are created across the line of breakage and then keys are driven into these grooves to stitch the two sides together. This is carried out at regular intervals depending on the extent of damage, material and component.
7.Welding
Welding, where the base metal is melted by high heat and cooled to fuse, usually with an added filler, is used for repairing cracks on wrought iron and steel structures.
8.Localized Replacement
Localized replacement is done for components that are missing or corroded beyond repair, including ironmongery, using salvaged historic parts or purpose-fabricated replicas of similar design, if there are no longer regularly made or available on the market. For partially damaged members, the defective section should be sawn off and the replacement parts welded on for wrought iron and steel, or cold-stitched in the case of cast iron. The same specific metal type should be used for partial replacement or repair materials and fasteners to avoid bimetallic corrosion.
9.Reinstatement
Reinstatement of elements are missing or severely damaged beyond repair. It is preferably done using dismantled historic elements of similar design from other parts of the same building, or architectural salvage yards. Alternatively, small-scale replica fabrication by specialized foundries may be possible, through a detailed study of the
component build-up, profile, joints, installation methods and other construction details of the original historic element, adapting to available manufacturing equipment and developing prototypes.