Finding a shophouse office for rent in Singapore may pose some challenges for those doing it the first time. Even experience tenants may still find it difficult at times. Because the layout for the shophouses are different. Every shophouse office for rent is different from each other. Besides the difference in the layout, because of the difference in the ownership type, the condition of the interior is also not the same. That's why it is important to have somebody familiar with the market to show you around. Singapore shophouses are a vernacular architectural treasure created by immigrants between the early-1800s and mid-1900s. As old as it may sound, many of these shophouses have been revitalized and repurposed for modern, contemporary use for office space, in food, retail, and even leisure stay. There are less than 7,000 shophouses and only around 1,500 shophouses in the Central Business District, Singapore. With the backdrop of tight office supply and rising rents in the Central Business District, the demand for heritage shophouses continues to appeal to businesses to rent for office space use. There are 5 tips finding the shophouse office for rent in Singapore.
1. WHY CHOOSE SHOPHOUSES FOR OFFICE SPACE USE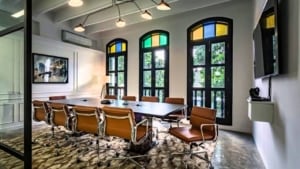 Shophouse Office For Rent Singapore.
There is a significant and rising number of coworking spaces in the Central Business District. However, the charm of choosing a shophouse for office space remains for boutique financial companies or tech firms who prefer the unique blend of rich cultural heritage and vibe to fit their branding personality. Also, they enjoy the added privacy, control of the space, and branding in their own office. Definitely, it is more ideal to host your own clients and visitors without the need to beat other coworking colleagues in booking the meeting room. In terms of cost, the rental pricing for shophouses in Central Business District ranges from $5.50 psf onwards, depending on the location, interior condition, floor level, and if it comes with lift access. This is significantly lower than the typical rental price in a Grade A building nearby and might work out only slightly more expensive to having your own private room in a coworking space.
2.LOCATION OF SHOPHOUSE OFFICE FOR RENT
Most of the conservation shophouses are located in a few areas in Singapore. Mainly the CBD, Kampong Glam, Little India, Joo Chiat, and Geylang. And some residential shophouses can also be found in Orchard Road and other parts of Singapore. A lot of businesses choose to locate their office in the CBD because they have to be near to their clients or just to make travelling easy for their team. So the offices in the CBD are usually the most popular. Most of these premises are also in better condition. because a lot of the units are owned by corporate owners that have the experience and resources to maintain the properties better. Some of these owners also renovate the properties periodically. We can identify these units for you. There is another popular location for the shophouse office. That is the Kampong Glam area. However, these may be confined more to the Bugis area. , most people are attracted to this area because of its popular location. It is also very convenient for its train services and other public transportation options. The other location like Joo Chiat or Little India also attracts tenants that are looking for lower price options or they mainly serve clients in that area.
3.ADVANTAGES OF SHOPHOUSE OFFICE FOR RENT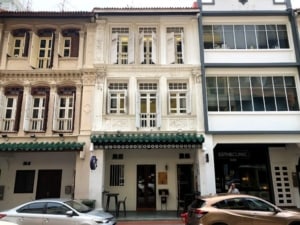 Shophouse Office Space For Rent In Singapore
There are some differences if you compare the shophouse office to conventional office buildings. Firstly, most office buildings have a fixed timing for air-condition operating hours. This may not work well for SMEs that work after the usual hours most of the time. Because office buildings management charges for additional air condition operating hours. And it can be very expensive in most cases while shophouse occupiers enjoy the flexibility of their air condition operating hours. Shophouse also has a special old-world charm. Most people are attracted to this feeling of working in a place that has a history behind it. The facade of most shophouses also draws many people to this type of workspace. Another reason for people choosing the shophouses is the less serious atmosphere it gives. This is especially common for companies that are involved in creative work like media, music, and design.
4.COST OF SHOPHOUSE OFFICE FOR RENT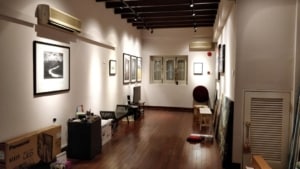 Beautifully Maintained Conservation Shophouse Office For Rent In Chinatown, Singapore
The cost of renting a shophouse office varies from location to condition. Most premises cost between $4,000 to $7,000 for a 1000 square feet space in an area like Amoy Street, Club Street, or Tanjong Pagar area. The major factors affecting the price mostly is the layout and renovation of the place. Conditions that will affect the rental price in shophouse units like outdoor terraces, fittings, and lift access. Some landlords also includes air condition power usage in the rental price. While some landlords offer free cleaning or pests control services. Other costs include your utilities, internet service, interior cleaning services, and your pest control.
5.FINDING YOUR IDEAL SHOPHOUSE OFFICE FOR RENT
How do you find the shophouse office that suits your needs? Firstly, is know how much space you need. Unlike most office buildings, the shophouse office is usually less regular in shape. The space may also include the toilets and pantry space. So it is better to hire a designer to assist you in space planning. Secondly, your neighbours may or may not be suitable for your business location. So having a realtor that is familiar with the local scene will help you navigate this. Thirdly is the condition of the premises. Depending on the owners of the place, some places may be in a lesser desirable condition compare to others. Having the right person to help you will also save you time from visiting properties that doesn't fit your requirements. Finally, the rental price. A competent realtor will be able to advise you whether the place is overpriced or an estimated cost for fitting out the space. This will help you save time and possibly money for your move. In conclusion, finding your office for rent can be a time consuming and taxing event.