As the Modern Shophouse Style emerged, elements from earlier styles began to be omitted. The five-foot way and party walls remained, but modern materials such as concrete were used. In line with the international move towards a more utilitarian perspective at that time, modern shophouses were built to be functional and austere. The Modern Shophouse Style's façade features thin concrete fins and air vents (as decoration) alongside mild steel windows and flat roofs to complement its geometric façade. Today, shophouses continue to define Singapore's adaptation to change. While a majority have strict conservation rules in place on the façade and foundation of the buildings. Many have since been converted into functional spaces like temples, clan associations, coffee shops, boutique hotels, cafes, and offices, albeit with modern furnishings and decorations to suit their intended audience. Let's explore the Modern Shophouse Style In Singapore.
1.Shake Shack @ 89 Neil Road, Singapore
The 89 Neil Road Shack's elegant design is inspired by the vibrant surrounding Chinatown and iconic colorful Peranakan architecture. The historic building retains the original neoclassical bones balanced by modern details. Such as soft pink and mint hues, rose-gold accents, and pink terrazzo. The airy interior anchored by a tiger mural harkening back to the building's history as the former Tiger Balm factory. Singaporean artist, Sam Lo, created a striking façade mural inspired by the neighborhood with auspicious Chinese symbols like the Lucky Bat and Qilin, Malay roof eaves, and Peranakan tiling.
Two new concretes were created based on local flavors, and Eye of the Tiger features vanilla custard blended with lychee, raspberry, and shortbread, topped with lime zest. While Open Sesame is vanilla custard blended with black sesame paste and Plain Vanilla brownies, topped with black sesame seeds and gold-dusted chocolate. Supporting the local creative scene, 5% of sales from the Shack Attack concrete supports Very Special Arts Singapore (VSA), a non-profit organization providing opportunities for the disabled through arts.
2.Modern Shophouse Style: Apple Marina Bay Sands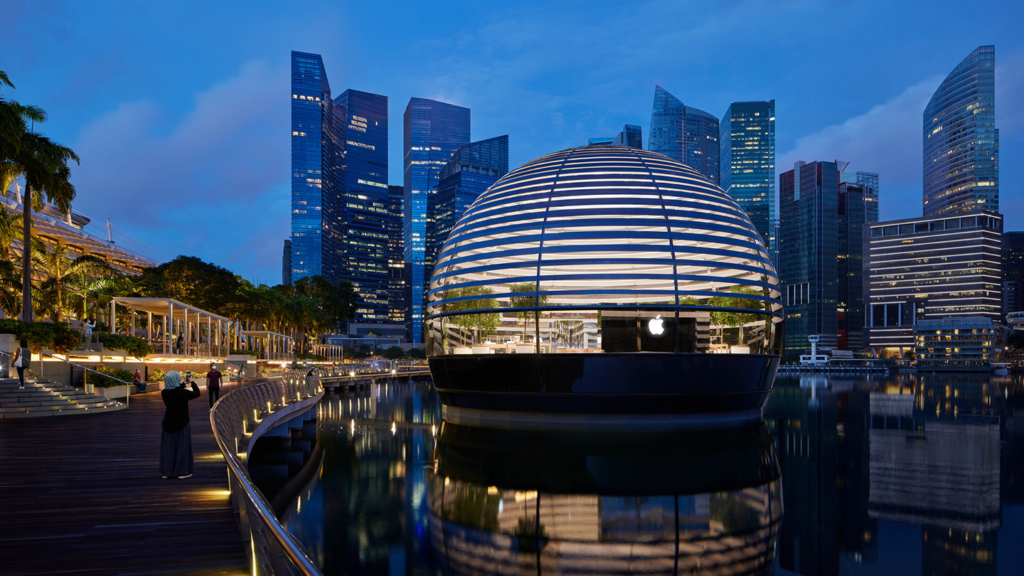 Apple Marina Bay Sands creates a new distinctive presence on Singapore Bay. The 30-meter-diameter structure is a fully glazed dome with a black glass base. Complementing the sister pavilions through its scale and materiality. The design is the result of a close collaboration between Apple's design teams and the integrated engineering and design team at Foster + Partners.
Structurally, the dome acts as a hybrid steel and glass shell, where the grid of steel sections supports the weight of the glass and shading. Also, the curved structural glass panels restrain the steel elements laterally and stiffen the overall form against lateral loads. Integrated solar shading devices keep the interior cool. Each of the 114 panels of glass is carefully selected to meet glazing indices as prescribed by BCA Green Mark. Singapore's own sustainability rating system.
In fact, each of the multifunctional concentric light sunshade rings reduce in size. This is because they progress towards the top of the building, providing acoustic absorption for the store. More importantly, they diffuse and reflect daylight to the baffle above, creating a magical effect and dematerializing the structure. At the top, a semi-opaque oculus provides a dramatic shaft of light that travels through the space, reminiscent of the famous Pantheon in Rome.
3.Canvas House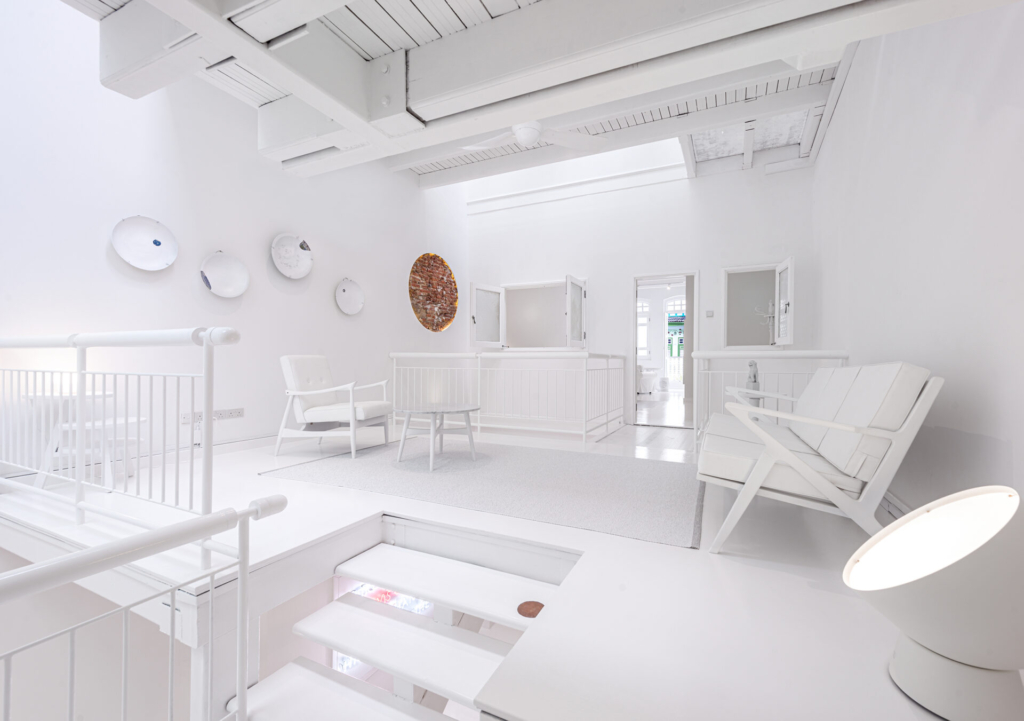 Modern Shophouse Style: Ministry of Design has created completely white interiors for this co-living space, which occupies a traditional shophouse in Singapore. Situated at the heart of Singapore's buzzing Tanjong Pagar neighborhood. Canvas House provides shared accommodation for creative locals and members of the ex-pat community. It takes over a four-storey shophouse. A type of building commonly seen around Southeast Asia. Which has a commercial business at its front and living spaces at its rear.
Locally based Ministry of Design completed the interiors of Canvas House, which soft-launched at the beginning of this year and already has a handful of tenants. Almost every surface painted white, an attempt by the practice to "provide a canvas" for any future aesthetic alterations that may carried out. Original surfaces, such as brickwork and timber stair treads, revealed here and there through circular incisions in the paintwork. The furniture, which mostly consists of vintage pieces, has similarly been painted white. These two feature areas where the original finish is allowed to show through.
4.Modern Shophouse Style: Esora Restaurant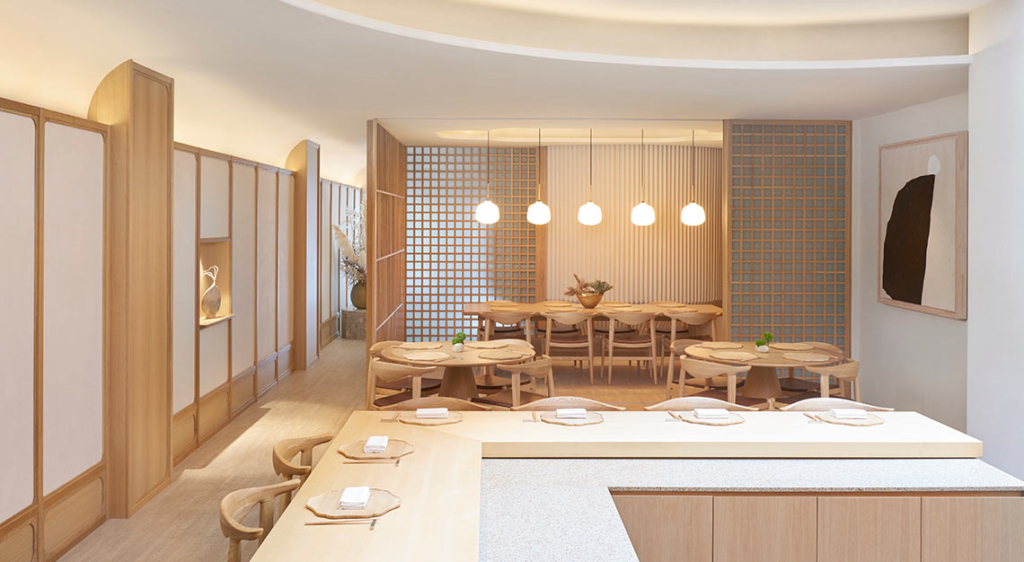 Minimalist interiors draw attention to the open kitchen of this Japanese restaurant, which Takenouchi Webb has created inside an old Singapore shophouse. Decked out with pale timber surfaces and pared-back furnishings, Esora has been designed to give centre stage to the dining experience. Besides, it is located in Singapore's River Valley district and was formerly a shophouse. A common building typology seen around Southeast Asia that combines a workplace with a residence.
The 26-cover restaurant will serve Kappo-style Japanese food under the guidance of chef Koizumi. Translating to "cut and cook", Kappo involves a chef openly preparing a multi-course meal in front of diners so that they can observe and appreciate the culinary process. The ground floor now centred by a cooking space, which enclosed by an L-shaped wooden block of seating. Part of the flooring here lowered so that the chef must step down to use the prep counter, aligning his eye level with diners and fostering a more intimate atmosphere. Overhead is a semi-circular glazed opening that overlaid with Japanese washi paper. Diffusing natural daylight in what the studio describes as a "cloud-like" manner.
5.Niven Road Studio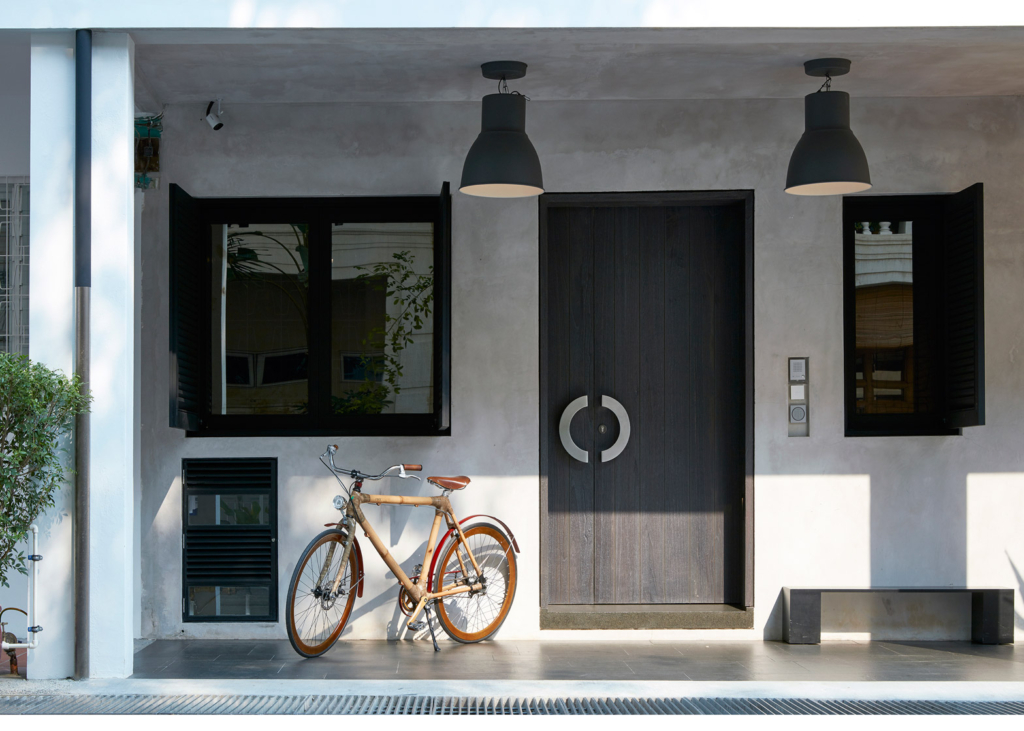 Almost 20 years after buying a shophouse in a historic Singapore neighborhood. The local architect Maria Warner Wong and her team have converted the building into a new venue for art and design. Warner Wong bought the property in 1996. Seven years before her and business partner Wong Chiu Man established their architectural studio WOW Architects. At the time she thought she could replace the building with a new live/workspace for herself. The architect faced a few hurdles – the largest being that the building heritage listed in 2003, limiting the options for redevelopment. In the end, she decided to restore and extend the building to create a new cultural space for the city.
Named Niven Road Studio, the building is located in a residential neighborhood in the centre of the city. Between the busy Middle Road entertainment district and the quiet Mount Emily park community. It originally built as a shophouse. A historic building typology in Southeast Asia that typically contains a shop at ground level and a residence on one or two floors above. As many of Singapore's old shophouses have now been demolished, those that remain are often granted heritage listings – prompting imaginative refurbishments. Recent examples include a house with a swimming pool in the centre and a cafe that specializes in eggs.
6.The Pool Shophouse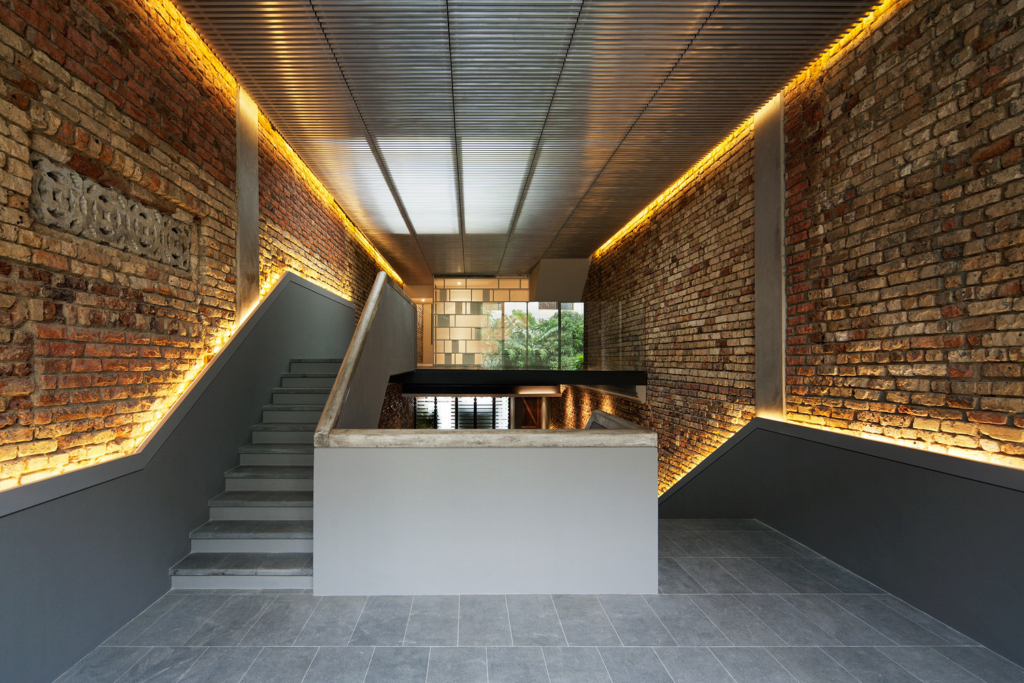 Modern Shophouse Style: Architecture studios FARM and KD Architects converted a 1920s shophouse in Singapore into a residence with a swimming pool stretched along the ground floor. Long, narrow shophouses are a typical building typology in Southeast Asia. Besides, the Pool Shophouse is one of eight renovated properties in the Lorong 24A Shophouse Series. For which various architects asked to adapt and extend properties in the Geylang neighborhood. The staircases they refer to zigzag back and forth through the house to connect the three existing floors with the four-storey extension, which contains bedrooms within its upper storeys. Narrow strips of lighting highlight the gaps between these new staircases and the exposed brick walls of the original building.
7.Hatched at Holland Avenue by Outofstock
Birds' nests inspired the facade of this Singapore cafe by designers Outofstock, where eggs are served all day. The bright yellow web of rope matches the color of the seats outside. As well as the handle of the wooden door. Floorboard offcuts stacked up to create a bar on the ground floor and other surfaces are picked out in chunky chipboard. Irregularly shaped lighting fixtures decorate the walls on the upstairs floor. Which the architects liken to hatching eggs or peeled potatoes.
Located in a two-storey historical shophouse in Holland Village. The design of this egg-themed, all-day breakfast restaurant is based on the concept of a nest. The intention behind the design was to inject more color and playful elements into the new restaurant. Building upon the warm and cozy barn house atmosphere of the original establishment, also designed by Outofstock.
8.Modern Shophouse Style: The Periscope by VW+BS
The Periscope is an office building located in the Upper Circular Road conservation area in Singapore. Made up of warehouses and shophouses that serviced the commercial activity around the nearby Singapore River until the latter half of the 20th century. The area has recently undergone regeneration and the restored buildings now accommodate offices, hotels, restaurants, and shops.
Our site comprises a listed 19th-century shophouse that remodeled in the 1930s. It has road access along the front via a covered public walkway and pedestrian service access along the rear of the building. There are traces of both the 19th century and 1930s interventions and our addition positioned so that it reads as a distinct layer in addition to the historic ones. A two metre deep airwell separates the extension from the existing building. It ensures that light and ventilation is maintained throughout the deep building. A device borrowed from traditional shophouses in this region.
9.55 Blair Road by ONG&ONG
Modern Shophouse Style: 55 Blair Road produces a spatial experience that excites the senses by promoting light open plan living which is unusual to this type of terrace house. This residence brings a balance between nature and contemporary living in a renovation of a Heritage Art Deco style terrace. The concept is to create a light open plan living space, whilst promoting Inside/outside space. The contrasting relationship between the metallic elements and subtle tones within the house creates an exciting spatial relationship throughout. 55 Blair road project is a renovation and restoration to a traditional art deco style shophouse. Originally the house renovated 10 years ago. The new owner however believed it was too dark and desired more light in the living spaces.
10.Lorong 24A Shophouse Series – Unit No. 9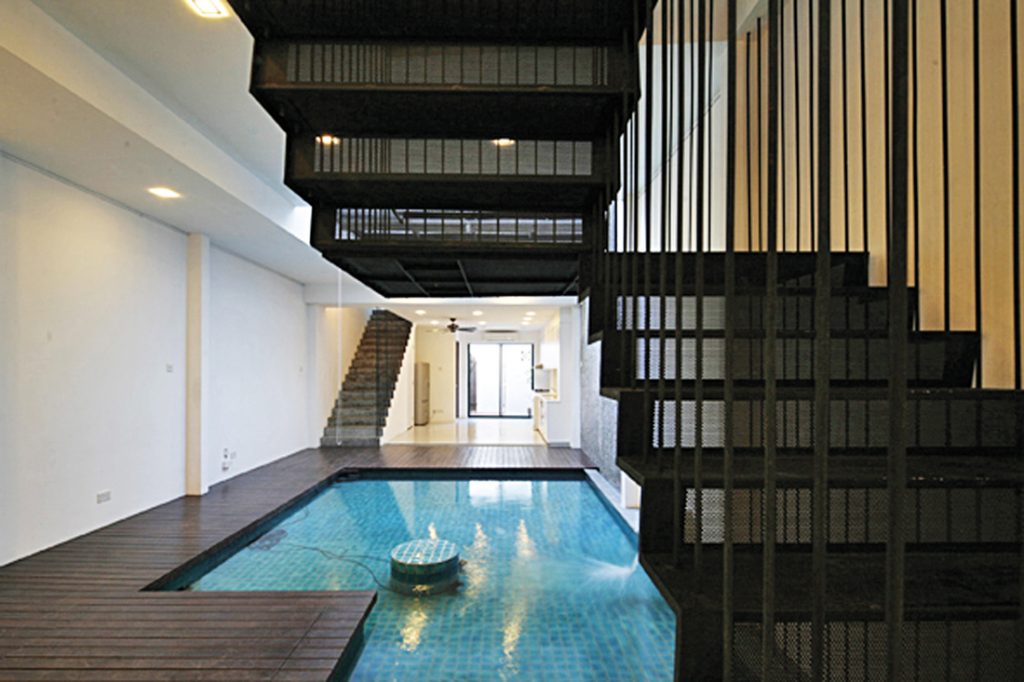 For No. 9, Liu & Wo Architects centred the redesign around the ideals of "lightness" and "connectivity". Lightness of space and materiality achieved mainly by exposing the shophouse's original structure. Such as the levels, roofing, and timber flooring. The key additions to No. 9 – the internal airwell, L-shaped pond, and black perforated metal staircase – also aligned with this intent. The unit's visual permeability allows a visitor to view the entire span and depth of the shophouse from the main entrance. For example, in the more intimate quarters within, clear sliding doors and glazed walls maintain the feeling of an open and light-filled space.
11.Lorong 24A Shophouse Series – Unit No. 11
In No. 11, Linghao of Linghao Architects gave the shophouse unit a new rear extension with four floors and connected it to the original three-storey building with an open central courtyard. Thin steel bridges that crisscross the courtyard space join the upper levels of the house's old and new parts. The bridges afford a different view depending on where you stand on them. Hence, there is always an interesting vantage point from which to appreciate glimpses of the house, framed against the backdrop of the city.
12.Lorong 24A Shophouse Series – Unit No. 13
Staircases often employed as the centerpieces in the homes he designs. Hence, it was perhaps unsurprising that Han Loke Kwang added not just one, but two of them in No. 13. Painted a fiery red, the founder and principal architect of HYLA Architects made the staircases impossible to miss against the white interiors of the house. Suspended over the island kitchen is the first staircase, which links the second storey to the attic. The second, nicknamed the "Red Dragon". Found in the courtyard and spirals over four floors to link the ground level to the roof terrace.
13.Lorong 24A Shophouse Series – Unit No. 15
Rather than simply creating a space for art, as stated in the design brief, Ong Ker-Shing of Lekker Design decided to make the shophouse itself art. Blurring the lines between a gallery space, architectural sculpture, and residence, No. 15 is a marvelous whitewashed expanse composed of clean, simple lines. Boasting high ceilings and large walls, it is just as ideal to display art in as it is to inhabit it. Ong deliberately defied expectations to downplay the architectural qualities in order to not take attention away from the art displayed. For her, the house too, could conceive as a living work of art, in harmonious coexistence with the artworks it contains.
14.Modern Shophouse Style: Shang House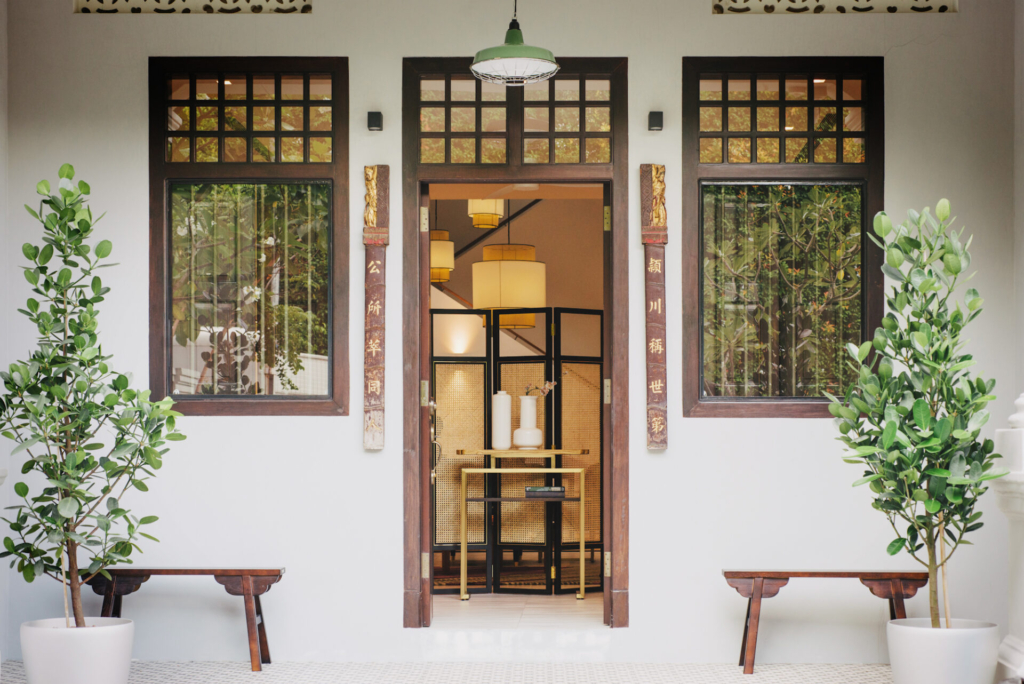 SHANG HOUSE is a pre-war conservation terrace house redesigned in collaboration with SCENE SHANG. It is part of the second set of homes in Figment's flagship Case Study Homes series, launched Feb 2020.
About SCENE SHANG
SCENE SHANG inspires a new appreciation for history and heritage through award-winning contemporary homeware and furniture designs that are rooted in a rich Asian heritage. In the spirit of 1930s Shanghai in all its Art Deco glory, the SCENE SHANG aesthetic is a contemporary take on classic Chinese elements designed for the urban dwellings of today. SHANG HOUSE is the first of its kind for the homegrown furniture and homeware label. An exquisite conservation residential space to explore, dream, and interpret with their love for blending tradition with modern-day sensibilities.
Modern Shophouse Style: About SHANG HOUSE
SCENE SHANG brings their signature aesthetic to SHANG HOUSE while remaining sensitive to the context of the space. Located in the Balestier Conservation Area that has a history in rattan manufacturing. This restored pre-war terrace house features custom-made SCENE SHANG furniture with rattan elements. As well as special edition homeware and art that highlight the century-old facade of SHANG HOUSE. SHANG HOUSE features their signature SHANG system. The award-winning customizable, modular storage system with elements reminiscent of Ming Dynasty design.
15.Allenby House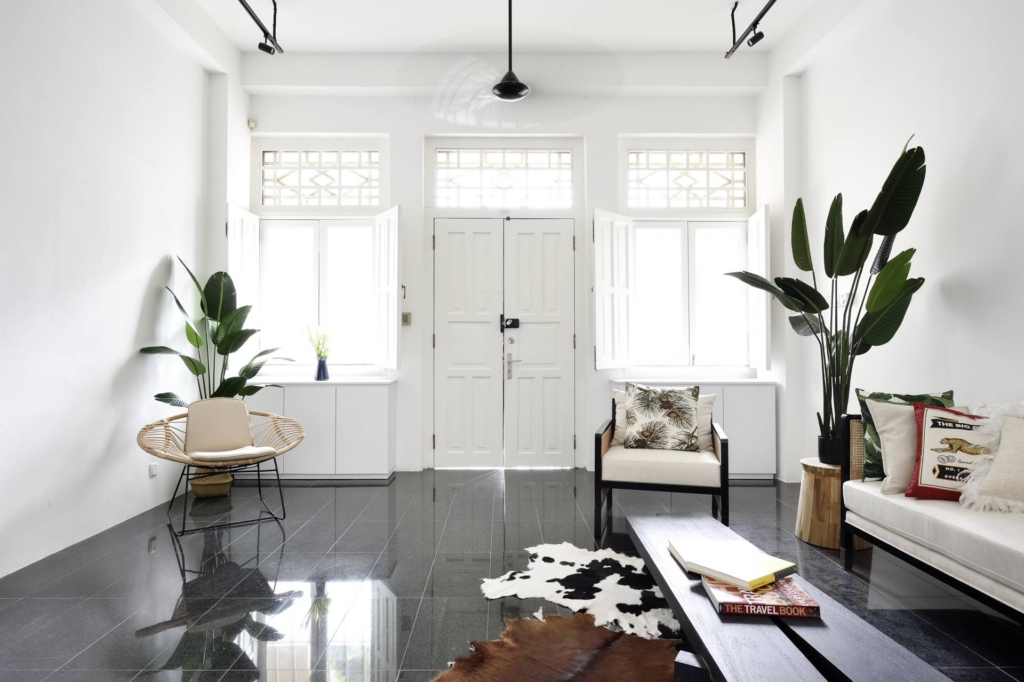 Modern Shophouse Style: Allenby House at 40 Petain presents a pared-down mid-century modern take on the interior. Clean silhouettes of the steel and rattan furniture marry form and function, allowing them to be lightweight and mobile. The black details of the furnishing and granite floor give a modern look and feel. Interjected with textures and just a dash of print and color to liven up the space. Keeping accessories and ornaments to a minimum, we opted for greenery and a statement art piece for the walls. This is an iconic and beautifully conserved Late-style shophouses along Petain Road. While the facades feature ornamental European architectural styles and motifs of the East, the interiors are an eclectic mix of styles that feel unique and personal.
16.Modern Shophouse Style: Ambon House
Enter your oasis in Ambon House on Emerald Hill greeted with lush bamboo, away from the bustle of city life. You wouldn't think you're only 15 minutes away from town. With unique room layouts, Ambon House gives lots of privacy for a quiet retreat. Kick back and go for a dip at the rooftop pool. The furnishing inspired by the mid-century modern era. With warm colors that call to mind cinnamon and sandalwood, common spices in the region. The house, like other houses along Emerald Hill, named after one of the Spice Islands in today's far-east Indonesia. The value of spices meant that this area of Emerald Hill developed into a nutmeg orchard. Get ready for super comfy, super private co-living spaces.
17.Banda House
Modern Shophouse Style: Visitors to Banda House will immediately sense its comfortable vibes. The house has layered half floors, characteristic of shophouses. With the kitchen and dining room, tucked away from the entryway and living room. A little outdoor seating area is also available on the lower floor. As a nod towards Chinese and Peranakan aesthetics, which Emerald Hill is known for. The furniture has intricate and rustic details that add to the character of the house. Heading up, the timber frames and panels around doors and in rooms give a cozy feel.
18.Modern Shophouse Style: Cavenagh House
If traditional is too stuffy and contemporary is too out there, Cavenagh House along Petain Road might be perfect for you. Bringing together traditional elegance and contemporary lines, we let the furniture do the talking. Come home to a comfortable Lawson leather sofa or laze on the chaise lounge. The wooden floor, earth-toned rugs, and varied upholstery bring a tasteful coziness to the space. Cross the indoor pond to the dining area with a large marble table and high ceiling above. Both perfect for hosting friends.
This is an iconic and beautifully conserved Late-style shophouses along Petain Road. While the facades feature ornamental European architectural styles and motifs of the East. Thus, the interiors are an eclectic mix of styles that feel unique and personal.
19.Dicot House
Modern Shophouse Style: Featuring an easy, no-frills design with some textures to mix things up. Decked with modular everyday furniture that is loose and flexible. You can easily move the pieces around for a different layout that suits your needs. Plywood and steel give an industrial feel, complemented by warm and soothing colors. Smaller rooms with shared bathrooms are perfect for those who want to keep their resting space simple and minimal and use common areas for work and leisure. All rooms have a study desk and chair.
20.Modern Shophouse Style: Kongsi House
Kongsi House, named in a nod to the idea of clan organizations and social clubs for Chinese immigrants originating from the same province. In the past, they helped the newly arrived overcome economic difficulty and social ostracism. Today, kongsi continue to symbolize a deep spirit of cooperation and the consideration of mutual welfare. This house pays homage to the entrepreneurial spirit of Ong Sam Leong. Its address's namesake, and a prominent member of several kongsi. Imagining a home fit for the industrious businessman who lived in the late 19th century. A brooding, serious-minded space ripe for both living and working – provided the vision for the house.
The high-ceilinged communal lounge on the first floor is airy and functional. Featuring a sitting area and a long dining table perfect for both formal meetings and casual gatherings. Also, a cozy corner banquette for more private affairs. The lattice panels along the upper walls are a decorative take on Chinese folding screens, a subtle nod to Ong's orient roots. Fully furnished and self-sufficient, the rooms in the home are true studios. Besides an ensuite bathroom and kitchenette, washing machines also found within each private living space for members' personal use.
As with the communal space downstairs, each studio features dark wood furniture in vintage silhouettes. Special thought was put into selecting the study desk and chair. Not only are they handsome and eminently usable. But, they are also unique so no two rooms share the same furniture piece.
21.Library House
Modern Shophouse Style: Designed in 1916, this terrace house was once owned by an investment banker. Inspired by this, we've created Library House, combining a cozy work and study area, fully-furnished studios, restful views, and lots of books. The common living area fitted with cozy armchairs and side tables, perfect for meetings, phone calls, or just a quiet read. Shelves of books on photography, art, and travel are available for Figment members' perusal, courtesy of the owner.
The long dining table can also turn into a workspace, with a printer and fridge nearby. An additional bar table facing the bonsai tree is also available for those who prefer smaller nooks. With ensuite bathrooms and a kitchenette in every room, you can also choose to stick around your own private space. The Centrepoint is a 5-minute walk away if you want to head outside.
This corner house and those from 64 to 72 Emerald Hill designed by Johannes Bartholomew (Birch) Westerhout for Puey Soo Keng. Renovation works done from 1991 to 1992 included the addition of a new rear extension, which earned the Good Effort Award in 1994. The precursor of today's esteemed Architectural Heritage Awards.
22.Modern Shophouse Style: Monochrome House
32 Petain features a minimal retro feel. White walls and furniture are met with pops of color. Framed movie posters hang from the living and dining room walls. Wooden doors with gold knobs reminiscent of old-school elevators make an inviting entrance with a hint of personality. Besides, this is an iconic and beautifully conserved Late-style shophouses along Petain Road. While the facades feature ornamental European architectural styles and motifs of the East, the interiors are an eclectic mix of styles that feel unique and personal.
23.Monocot House
Modern Shophouse Style: Featuring an easy, no-frills design with some textures to mix things up. Decked with modular everyday furniture that is loose and flexible. You can easily move the pieces around for a different layout that suits your needs. Plywood and steel give an industrial feel, complemented by warm and soothing colors. Smaller rooms with shared bathrooms are perfect for those who want to keep their resting space simple and minimal and use common areas for work and leisure. All rooms have a study desk and chair.
24.Modern Shophouse Style: Still House
Located on Singapore's 'most colorful street', STILL HOUSE is a respite from the eclectic neighborhood of Joo Chiat. Restfulness and simplicity are at the core of this pastel pink terrace house. Playing with shape and form, Studio Juju worked with rounded edges, a muted color scheme, and natural materials. Hence, create a pleasant and welcoming abode that is gentle on the senses. Accents of color added on doors and in the choice of wall art, including pieces by Wu Yanrong and Enzo Mari.
25.Sturdee House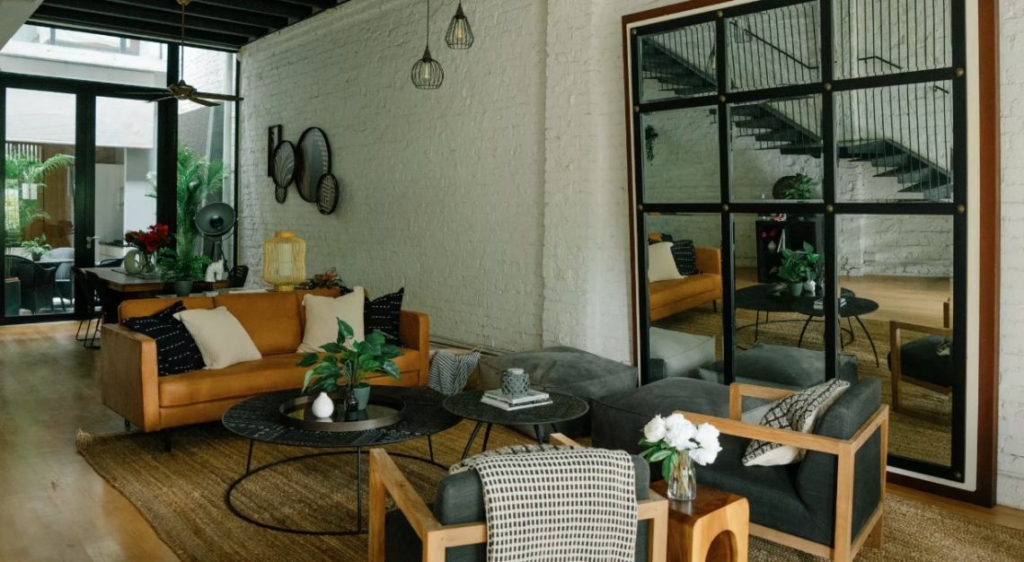 For those who enjoy neutrals and wood tones, Sturdee House is a delight. Probably dating to the 1950s, this Modern Shophouse Style uses concrete with no decorative tiles, presenting a more minimal facade. For example, inside, greys, browns, and black choose for the white brick, accented with rugs, throws, and different wooden furnishings. Enjoy a clean and cozy feel in your studio with your own desk/workspace. Or, head to the ground floor for some alfresco dining.
Inspired by the natural tones of Sturdee House, it furnished with a variety of wood. Also, the suites also named after wood found in the region. Binjai and Angsana suites have open-air bathrooms and the balcony of Angsana faces the street. Tembusu and Seraya have large windows, while Banyan offers great privacy up in the attic. Source: figment
26.Urban-bohemian, Loft-inspired Conservation Shophouse
Modern Shophouse Style: Masculine lines and a neutral palette create a city retreat in this conservation shophouse in River Valley. Designed by Irene Toh of Spacious Planners, the home has an urban-bohemian, loft-inspired style to it. Homeowners Sarita Sies and her Slovak husband Michal Tyles decorated with paintings from Indonesia to jazz up the neutral palette. A happy mix of wood and plastic seats surround the dining table, adding variety to the decor. The couple also opted for maximum simplicity with their sparse stainless steel kitchen.
27.Multi-million Dollar Peranakan Style Conservation Shophouse
Rented by Elizabeth Acland and her fiance, this conservation shophouse is every bit as beautiful inside as it is outside. Situated along Emerald Hill, it retains some of its Peranakan heritage in fixtures and architectural features. The spacious living room is bright and airy, with high ceilings and light-colored finishes. Soft furnishings and fabrics beautify the home further. In addition, a focal point is the beautifully-carved display cabinet built into the wall, which the couple now uses to store their stemware collection.
28.Refurbished Shophouse with A Japanese-Scandi Theme
Modern Shophouse Style: In a corner of Joo Chiat rests this 3,000sqf conservation shophouse. Home to Tsok Wui Chong and Catherine Ong Ling of Md. Ma Design Consultants. The double-storey estate revamped to give it a contemporary zest without compromising on the beauty of its original architecture. The result: a cross between Japanese and Scandinavian decor amidst vintage tones. Besides, rocky slabs of bricks and pebbled ground introduce some vibrancy to the quaint corner garden. Rustic bamboo strips add to the Oriental style of the space, and nostalgic, geometric floor tiles balance out the modern finishes.
29.Two-storey Restored Shophouse with Lots of Character and Vintage Knick-knacks
This Joo Chiat shophouse has a clean and contemporary design, layered with organic vintage pieces and decorated with quirky knick-knacks. Despite having vastly different tastes (one being partial to contemporary and colorful. The other preferring vintage), homeowners Eng Kwee and his wife Hwee Min reached a happy compromise with the design of the house. A highlight of the home is the spot beside their pool, lit by gorgeous daylight and cooled by natural ventilation.
30.Elegant Colonial Shophouse with Modern Interiors
Modern Shophouse Style: The well-balanced look in this colonial shophouse creates a sense of formality, tradition, and visual harmony. Restored by local studio Pencil Office, it takes on a decorative and stylish feel. Behind a wooden screen with a chic zig-zag pattern lies an open-concept living room with screed concrete floors and industrial-style brick walls. The living area, which used to be an open-air courtyard. Also, furnished with the original sculptural murals and wall paneling, coated entirely in white for a modern look.
Also part of the original structure is the brick wall, which the homeowners turned into an art wall. The imposing look of the heritage building further enhanced by a live-edge wooden table, complemented by vintage-style lamps.