Katong Shophouses
Katong, also known as Tanjong Katong, is a residential neighborhood in the eastern portion of the Central Region of Singapore, within the Marine Parade planning area. It used to be located by the sea, but the land has been reclaimed all the way to East Coast Park to provide more land for housing and recreational purposes due to the shortage of land in the late 1960s after Singapore gained independence. Katong was the location of many villas and mansions of the wealthy elite in the late 19th to the mid-20th centuries. They made their fortunes in the Far East and built seaside resorts, villas, and manors along the beachfront of Katong, beginning from Katong Park to the end of the East Coast. Katong's rich cultural mix has contributed to its unique cuisine. Katong is well known for its restaurants serving Peranakan cuisine and particularly, a spicy Straits Chinese noodle soup called Katong Laksa. Let's discover the 9 colorful shophouses in Katong.
1. Geylang Serai Market
One of the biggest and busiest wet markets in Singapore, Geylang Serai Market is both a vital social hub and a great place to expand your culinary horizons with some traditional Malay cuisine. Boasting about many pleasant things to uncover, the bustling bazaars in Geylang Serai stands for the cultural richness of Malay communities in particular and Singaporeans in general. Geylang Serai wet market is the only market in Singapore that is 100% halal. There is no pork on offer anywhere here. Instead, you will find the shoppers spoilt for fresh Malay influenced produce. Asam pedas stingray (sour and spicy stew), beef rendang (braised meat cooked in coconut milk and spices), and goreng pisang (banana fritters) are just some of the Malay dishes on offer at the hawker centre, housed on the second floor of the wet market. The ground floor is full of narrow stalls selling almost everything for local chefs searching for products from tropical fruits, herbs & spices, to dry goods, souvenirs, or raw meats while the second floor is the heaven for any foodies with a food court that serves up a wide range of traditional Malay delicacies.
Alternatively, get a taste of traditional cuisine at Haig Road Food Centre. This hawker centre is the largest food hub in Geylang Serai, and boasts a range of flavourful offerings, including roti john (omelette sandwich) and putu piring (steam rice flour cakes filled with gula melaka (palm sugar)). The owner of Haig Road Putu Piring, Mohamad Hashim, has dedicated over two decades to perfecting this traditional sweet treat, which he learned to make from his grandmother. If your visit to the neighbourhood coincides with Ramadan, be sure to check out the Geylang Serai Bazaar. During this period, the bustling street is transformed with lights, festivities, and a delicious array of traditional and modern street food. Expect to feast on pasar malam (night market) staples like vadai (savoury Indian donuts) and mee kuah (noodles in a spicy red broth).
Geylang Serai is located on the east side of Singapore. If you have done our Katong food tour, Geylang Serai is the area at the top of Joo Chiat road where the tour begins. The word "serai" means lemongrass in Malay. And is a nod to the early Malay settlers who harvested lemongrass there. In the early 1960's Geylang Serai was transformed thanks to the introduction of HDB's. HDB's are our version of public housing. With these new apartments also came the market. In 2004 the market and some of the older apartments were demolished. It wasn't until 2010 that the new market opened up. The design of today's Geylang Serai market reflects the architecture of an old Malay house. The high sloping ceilings and the ornate Malay motifs make it an instantly recognizable landmark.
Address: 1 Geylang Serai Sri Geylang Serai Geylang Serai Market and Food Centre, Singapore 402001.
Opening hours: Daily 06:30 – 12.00 (Wet market)      Daily 08:00 – 22:00 (Food center)
2. Joo Chiat Complex
Located on the Eastern side of the island, Joo Chiat is known for being one of the first heritage towns in Singapore! A quick chat with the locals would reveal that the neighborhood has always been synonymous with the Peranakan (Straits-born people with Chinese and Malay or Indonesian heritage) culture. The Joo Chiat of today is a mix of old and new. From traditional heritage shophouses to hipster bars and shops. Explore its rich history and modern influences with a stroll down the street. Here's the ultimate walking guide for you to uncover the best gems hidden in this neighborhood! Fast forward to 2020 and Joo Chiat still remains a gem of the East. Ever lively and entertaining, the area has welcomed a couple of new cafes and attractions, solidifying its claim as the 'go-to' hangout spot in the east!
An old-school shopping mall, Joo Chiat Complex separates itself from the rest by offering a plethora of fabrics and textiles, Malay traditional clothing, food, and jewelry. You can also find everything else you need in your kitchen like sieves, kitchen scissors, bread bins, cake stands, cake mixers, rice cookers etc. You name it, they have it. And it's definitely not overpriced too. Joo Chiat Complex has plenty of textile shops with huge varieties and low prices! People living in the east will really benefit from this mall because you can now get nearer access to textiles. This mall has plenty of shops selling household necessities like curtains, cushion covers, bedsheets, and rugs too. You can find these items anywhere in Singapore, but at Joo Chiat Complex you'll get a bigger variety to select from. Located at the very tip of Joo Chiat Road, this mall is perfect to kick-start your introduction to this neighborhood.
Tips: Join our Muslim friends during Hari Raya (mid-May to mid-June) as they prepare to celebrate the festival of Eid! This is definitely a good opportunity to soak up the festivity and get some colorful pictures in for that gram.
Fun Fact: Joo Chiat Complex is one of the start/endpoints (depending on where you start) of the popular annual Geylang Serai Night Market, it also serves as a good landmark to meet up with your friends!
How To Get There:Joo Chiat Complex is located between Paya Lebar and Eunos MRT Stations, and if you do not wish to walk, here are the bus services serving this mall. 24, 28, and 154 will bring you to Paya Lebar Station in a flash. It isn't considered ulu (inaccessible) in my opinion! Non-residents of Geylang Serai or Joo Chiat can easily check it out too. For those driving, there's a multi-storey carpark attached to the complex. For those taking taxi, this complex is at the corner of Geylang Road and Joo Chiat Road, both busy roads with plenty of taxis. This is definitely not one of those ulu heartland places where you'll feel stranded with no way to get out once you alight from your taxi there.
Address: 1 Joo Chiat Road Joo Chiat Complex, Singapore 420001.
Opening hours: 9.30 am – 6.30 pm daily
3. The Jousting Painters mural
Style Wars. The realistic painting features two young boys on their doodled horses facing each other. This scene might be familiar as some of us might have had childhood memories similar to this.
Street artist Ernest Zacharevic has been dubbed the Malaysian Banksy. Born in Lithuania and based in Penang, the 20-something artist has garnered a global following for his fantastically playful, interactive street art. He found a clever way to stay clear of legal fuss – by painting on private estates after getting the owners' permission. Regional marketing and events company acacia! had also commissioned him for his work. With the support of the company and the house owners, Zacharevic has succeeded in adding colour and life to some of Singapore's monotonous walls. From Stavanger to Singapore, his murals often incorporate real-life props, whether old bicycles, wooden chairs, or even the moss growing out of cracks. The artist made several stops in Europe this year with his trademark photo-based murals showing up in Italy, Lithuania, and Norway. Zacharevic says of his art: "Most of my work is photography based and site-specific, so I photograph my subjects and later choose angles for painting. Working with children allows more anonymity, I don't consider my artworks to be portraits of a specific person, rather a universal experience. " You can see more of his recent work over on Street Art News.
In one small work opposite the Malabar Muslim Jama-ath Mosque, two exhilarated kids freewheel it on a pair of 3D supermarket trolleys. To the right, a young boy somersaults out of a box, while further south, on the corner of Victoria St and Jln Pisang, a giant girl caresses a snoozing lion cub. These three Zacharevic creations are not the only ones in town either. Head to the corner of Joo Chiat Tce and Everitt Rd in the eastern neighborhood of Joo Chiat (Katong) and you'll stumble upon his Jousting Painters, a giant mural featuring two very real-looking boys prepared for battle on brightly painted horses. Jousting Painters can be found at the intersection of Joo Chiat Terrace and Everitt Road, a ten minutes walk away from Eunos MRT Station.
How To Get There:
Take Bus 33 from Dakota MRT Station and stop at "bef Joo Chiat Place" (bus stop code: 82151).
Walk straight down the road, passing by Kim's Place on your right until you see the Joo Chiat Terrace sign.
See the blue ONE WAY sign behind? Just follow the sign and walk straight down. After walking for three minutes, you should be able to see a yellow shophouse on the
The road next to it is the intersection of Joo Chiat Terrace and Everitt Road, and you will be able to see the painting clearly once you turn into the corner.
Alternatively, you can walk from Eunos MRT Station. Walk down Jalan Eunos and Still Road, then turn into Joo Chiat Road and walk straight down until you see the intersection. The walk takes approximately ten minutes.
Address: 85 Joo Chiat Terrace, Singapore 427247.
4. Lucky Shophouse
An old shophouse. A Joo Chiat Client. The passion to retain the charms of a historical place in Singapore. This shophouse is located along Joo Chiat Place, in a conservation shophouse district in the secondary settlement areas of Joo Chiat and Katong in Singapore. The conservation guidelines for this area require the front portion to be conserved and restored, while the rear portion can be redeveloped to a maximum of 4 storeys. For this stretch of shophouses, the guidelines require any new redevelopment to be converted for residential purposes. A 1920s BOOKSHOP in Joo Chiat is re-created into a modern home for its owners who grew up in the neighborhood. They remember buying books, cassettes, and chewing gum from this shop called Lucky Book Store – a typical Singapore shophouse with a shop on the ground floor and living or storage space on the upper level. The Lucky Shophouse was completed in 2012 by the Chicago based studio CHANG Architects. This project included the renovation of an old Shophouse. For this stretch of shophouses, the guidelines require any new redevelopment to be converted for residential purposes. Built-in the 1920s, this shophouse used to be a book shop called The Lucky Book Store. The ground floor was the retail area, while the upper level was partitioned for storage. Behind this shophouse was a long, narrow concreted vacated land. Surrounded by 3 to 4-storeys service apartments and semi-detached houses, a portion of its side faces a back lane, franked by houses on both sides.
Juxtaposing grown-up sophistication and childhood nostalgia in a simple layout for flexible usage, CHANG Architects brought back to life many of the original elements. The tone and color of the front facade were uncovered and preserved, likewise the fading 'Lucky Book Store' signage on the front pillar. Old brick walls, timber rafters, and floor joists were restored and made leading statements to the space. The generous use of timber and wood, concrete, brick, and rustic stone aggregate for the interior's finishing and furnishing along with charcoal-colored elements bring everything together in an effective composition. A double-volume dining space becomes the common, popular gathering space that visually connects the ground floor and the upper level. A delightful view of the green outdoors is framed through a pair of full-height timber sliding panels that open out to the central garden space with its breezes, and overlooks the new rear house extension. This structure is made of rustic stone aggregate, which adds to the old-world charm of the project as well as its surrounding neighborhood. Lucky Shophouse has garnered a string of awards including the Unesco Asia-Pacific Award for New Design in Heritage Contexts.
5. Koon Seng Road shophouses
Koon Seng Road was a predominantly residential area, but it had a vibrant business atmosphere as there were shophouses along the road. The road was also a Peranakan enclave in the past until the 1970s when the Peranakans began moving to other parts of Singapore. A few dreaded triads such as Gang 18 and 36th Pai operated in the vicinity of this road. Kampongs situated around the road proved to be good hideouts, especially for hiding weapons. Though violence was limited to inter-gang fights and did not affect the layman directly, scenes of violent fights are well remembered by those who grew up in the area in the 1950s. The culturally-rich Joo Chiat and Katong areas are a gem to explore, and their highlights include these colorful shophouses which are bursting with character. Koon Seng Road gets its name from Cheong Koon Seng, one of the first thirteen students at Singapore's Anglo-Chinese School. Some of the houses are still inhabited by the original families that moved in during the 1920s, but many of them moved out in the 1950s due to gang violence in the area. Koon Seng Road is one of the tourists' favorite local hangouts, with unique Peranakan architecture that serves as a perfect backdrop as you pose for photos, or enjoy a cuppa at one of the nearby cafes. The iconic pastel shophouses were constructed in the 1920s and have been conserved for their beautiful historical design, which like the Peranakans (Straits-born people of Chinese and Malay/Indonesian heritage), is a unique mix of Chinese and Malay influences. Step onto the five-foot way for a closer look at the intricate motifs and oriental flourishes.
Along Koon Seng Road, there are well-designed picturesque two- to three-storey shophouses, terrace houses, and homes, some in distinct Peranakan styles or ornate eclectic Chinese styles. Some of the residences on this street have been featured in books and won awards for their well-designed spaces. Most of the shophouses were built in the 1920s and 1930s and were gazetted for conservation in 1991. Besides looking at the pretty and colorful houses, very little else. Koon Seng Road has become increasingly popular online since it's very photogenic and it earned its position in the list of most Instagrammable places in Singapore. If you visit this popular street you will find numerous people taking photos in front of the buildings (sometimes with matching outfits for some bonus Instagram points!) but other than that there isn't much else to do. There are lots of shops in the street perpendicular to Koon Seng Road so you can always go for a bit of a shopping tour once you're done with photos.
This picture-perfect row of shophouses is a sight you can't miss in Singapore.
No two shophouses are the same; look closer to admire the subtle differences in architecture.
The bright colors make the perfect backdrop for a photo.
Many of these buildings are rumored to still house their original line of occupants from the 20s!
How to get to Koon Seng Road
The closest MRT stations are Eunos Stn and Paya Lebar, a short 15-minute walk away from Koon Seng Road. There are also a number of bus stops all around Koon Seng Road, some of the buses that arrive close to it are the 33, 16, or 966. However going to Koon Seng Road from downtown Singapore with public transport can take up to an hour, whilst a taxi will take a maximum of 10 minutes. Ubers are fairly cheap in Singapore, you can get an Uber from Koon Seng Road to little India for around 10 SGD. You can also rent a bike and cycle there.
6. Joo Chiat Community Centre
On 1 July 1960, the PA was formed to help foster racial harmony and social cohesion to form the basis for nation-building. Twenty-eight CCs were set up as meeting grounds for various ethnic, language, and religious groups. Community leaders served in the newly-formed Community Centre Management Committees. The 1950s and early 60s saw turbulent times for Singapore. Racial riots and political strife made Singapore a poor and divided society with closely-knit communal groups pulling in different directions. We had to overcome serious political, economic, and communal problems in order to survive. More and more people became active with the establishment of the Citizens' Consultative Committees and later, the Residents' Committees (RCs) and Neighbourhood Committees (NCs). People of different races, language, income, and age groups participated in a wide range of activities at the CCs. Such multi-racial participation helped to promote unity despite the diversity in race, culture, and religion.
Today, they continue to bring people together through a wide range of activities organized at more than 100 CCs, 550 RCs, and 100 NCs all across Singapore. They have grown from strength to strength and look forward to continuing their role in strengthening the community and nation-building. Be a part of history and join them in this worthwhile endeavor.
Community Clubs/Centres (CCs)
Facilities: 10am – 10pm
Counter Services: 10am – 6pm
Closed on public holidays
Void Deck CCs
Facilities: 2pm – 10pm
Counter Services: 2pam – 6pm
Closed on public holidays
Operating hours prior to COVID-19 (currently not in play):
Operating Hours: 09:00 – 22:00
Payment Hours: 09:00 – 21:30
7. The Red House
 A limited-edition, integrated heritage development composed of distinctive residences situated within Katong's most historical landmark – The Red House Bakery. The name Red House Bakery was derived from the façade of the two-story shophouse that was painted in red. It was famous for its traditional cakes and pastries such as its curry puffs and soft swiss rolls. It was the first in Singapore to bake three-tier Western-style wedding cakes in the 1920s. It was also known as a favorite hangout for local bands during the 1960s. Customers would choose and eat the amount of cakes or pastries that they desired and then proceeded to the cashier to make payment. The bakery shop practiced a system of payment based on trust, as was the norm among old establishments. The bakery shop exuded old charm as the antique floral tiles and wooden furniture that greeted one upon entry would evoke a feeling of nostalgia. It was also the space for casual meetings for families who wanted to matchmake their children to suitable partners. There were even "matchmaker's screens" where prospective couples were introduced, had tea, before going off to the nearby theatres. Located within an active retail, entertainment, and community hub in the 1950s and 1960s, the bakery was located in what was "often considered the 'traditional' heart of Katong". Today, the shophouse where the bakery once stood and the adjacent shophouses along the stretch of East Coast Road are being restored as a residential-retail-lifestyle heritage development.
The Red House Project is slated to be completed by the second quarter of 2016, which includes a bakery and heritage gallery, with artifacts from the old bakery. The Red House is a residence of unmatched prestige and luxury. It is set to breathe new life to the famous Katong district and redefine the contemporary East Coast lifestyle. Be one of the privileged few to have this unique opportunity to live in one of Singapore's most famous conserved heritage buildings. The Red House Bakery is a popular reference to a relict confectionery shop, Katong Bakery & Confectionery. This bakery was a popular breakfast haunt among Singaporeans living in the eastern part of Singapore, especially for its signature cakes and curry puffs. It was established in 1925 and located at 75, East Coast Road. It was closed on 23 March 2003 after the shophouse where it was occupying was deemed as unsafe. 
The Red House is situated in Katong, one of Singapore's most treasured and beloved neighborhoods on the East Coast. From the late 19th to the mid-20th century, Katong was the choice of Singapore's most elite families to build their weekend homes and mansions. Today, the colorful shophouses represent a melting pot of Singapore's many cultures and a unique celebration of Peranakan and Eurasian heritage. Discover a treasure trove rich in history and the picture-perfect architecture of shophouses as well as local hip watering holes and an emerging arts scene with trendy boutiques and galleries. Amidst the modern developments and high-rise condominiums, Katong continues to bring out the charm and beauty of Singapore's rich history. A myriad of conveniences await you on the East Coast. The Red House is well connected via major roads and expressways such as the ECP and PIE. It is also right next to a multitude of shopping destinations such as 112 Katong Mall (2 mins walk) and Parkway Parade (7 mins walk). There is a selection of reputable schools nearby including Haig Girls, the Canadian High School, Victoria Junior College, and The Convent of the Holy Infant Jesus (CHIJ). And the bright lights of the CBD, Marina Bay, and the new Singapore Sports Hub are just minutes away. 
Address: 63 E Coast Road, Singapore 428776.
8. Katong Shopping Centre
Katong Shopping Centre (Chinese: 加东购物中心) is a shopping mall located along Mountbatten Road in Singapore. Established in 1971 and opened to the public in 1973, it was the first air-conditioned mall in Singapore. Katong Shopping Centre is situated around the Odeon Theater, Church of the Holy Family, and Roxy Square, as well as several hotels, such as the Paramount Hotel and the Grand Mercure Roxy Hotel. Katong Shopping center is a premier shopping complex that has been able to stand the test of time with its impeccable architectural design. It offers a variety of retail and services mix that caters to the entire family shopping. The shopping center is primarily used for Other Retail rent and sale. It hosts several shops and offices that you can visit for a wide selection of various products and services. The aging mall was once home to mostly textile, shoe and food outlets, and now houses many services which include tailoring, photocopying/printing, and several employment agencies.
Katong Shopping center not only prides itself in its rich historical heritage but also the freedom that it has always accorded shoppers. Having been in operation for so many years, the complex is well-positioned to deliver the best shopping experience that you will truly enjoy. It incorporates various shops that cater for day-to-day needs as well as other services. Apart from just the historical heritage of the Katong area, the shopping complex is quite easily accessible via several points due to its close proximity to Dakota MRT Station (CC8), Eunos MRT Station (EW7), and Paya Lebar MRT Station (CC9/EW8). Besides, it is also near several bus stops, making it very convenient for shoppers to visit. By bus, you can alight along Mountbatten Road, from where the shopping center is clearly visible.
Address: 865, Mountbatten Road, Singapore 437844.
9. Marine Cove (East Coast Park)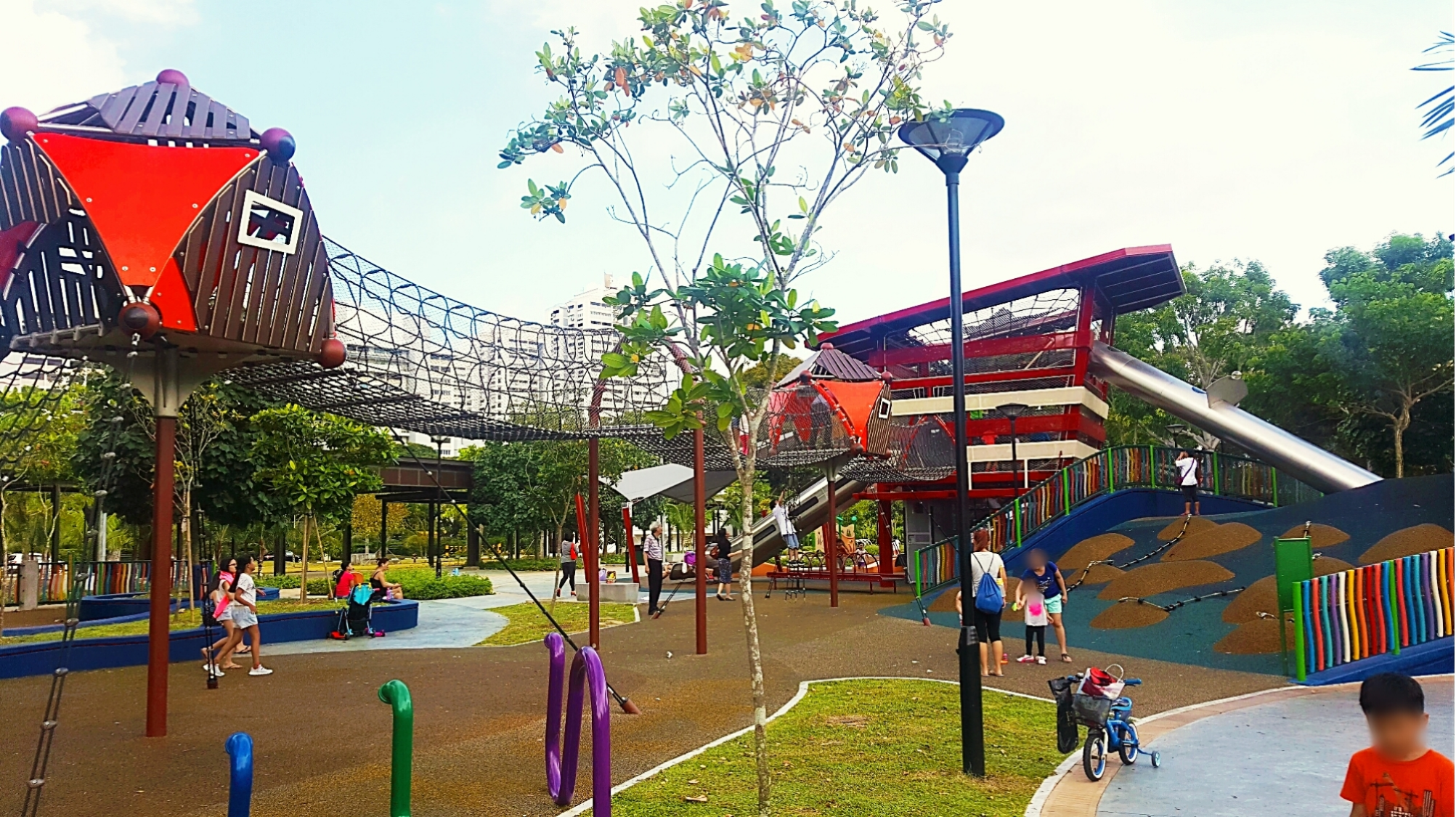 During your stay in Singapore, if you fancy a little peace and quiet and a beach atmosphere, perhaps in the shade of palm trees waving gently in the breeze, without leaving the city center, East Coast Park is the place for you. The park covers an area of almost two kilometers on the south-east coast of the main island of Singapore, with a marvelous beach of white sand stretching for 15 kilometers. The beach is entirely man-made and is protected from the tides and currents by breakwaters, making it suitable for bathers all year round. The east coast of Singapore is a strip of reclaimed land that stretches all the way from Fort Road to Changi Airport. Today it has become one of Singapore's most popular recreational spots. Every weekend, thousands of Singaporeans head to East Coast Park to cycle, rollerblade, have picnics, or do water sports. Others go there for seafood or do have a relaxing drink by the beach. A permanent fixture on the coast is the fishing community, which finds the waters of the east coast abundant with fish. What we now identify as East Coast Park was an indistinguishable part of the South China Sea up till twenty years ago. In these twenty years, the area has gone through considerable development, Marine Cove being the latest installation to the park.
All along East Coast Park, you see stands renting bicycles and rollerblades. Each shop caters to your preferences and offers mountain bikes, tandem bikes, and practically any other type of bicycle you may wish for. The rollerblades, too, come with safety pads and helmets to make you feel secure. Each shop provides you with a locker in which you can store your belongings while you exercise. You can engage in water sports in the more remote areas of the East Coast. The Kallang River area of East Coast is where dragon-boating, wakeboarding and water-skiing practice sessions and competitions are often held. As you progress eastward from Kallang River, you see small shops where you can rent canoes and kayaks. Even further east are the Sea Sports Centre, the PA East Coast Sea Sports Club, and the National Sailing Centre. Here, you can go sailing, windsurfing, and other sports in the open sea.
There are plenty of places to eat, drink and be merry. An area dedicated for this purpose is Marine Cove, where you find a maze of restaurants, cafes, and pubs. All the pubs are located on the beachfront, such as Scruffy Murphy's Irish Pub. Next to Marine Cove are bowling alleys and tennis courts. Further down, there is a row of seafood restaurants and the recently-renovated Lagoon Food Centre. East Coast Park is littered with barbeque pits and is a popular place for gatherings. Also, you can rent a chalet in East Coast at Costa Sands Resort, where you can relax in old, two-storeyed brick houses by the sea. At Marine Cove on the east coast, there are live bands performing frequently.
Address: 1000 ECP, Singapore 449876.