Every era produces its own defining architectural style, but there's no doubt that some periods leave a more enduring heritage than others. The traditional Singapore shophouse interior evolved from such a period. Built between 1900 and 1940, shophouses were best known for their spectacular ornamentation. Not surprisingly, these buildings are now highly sought after, and many are part of an exclusive residential enclave in Singapore, known as the Blair Plain Residential Historic District. This shophouse in the precinct was one of three that came up for sale together. At some time in the past, it had been gutted and drastically altered from its original state to create offices. Shophouses interior were a convenient design for urban settlers, providing both a residence and small business venue. Shophouses interior were often designed to be narrow and deep so that many businesses can be accommodated along a street. Each building's footprint was narrow in width and long in-depth. The front area along the street was formal space for customers, while the rear areas were informal spaces for family members, toilets, bathrooms, kitchens, and infrastructure. Merchandise was displayed in front of the house, and was protected by a veranda from rain and sunshine. The veranda also served as reception for customers. The veranda along the street was an important area for the house owner and customers. Unless there was a communal arrangement, verandas may not be connected to each other to form continuous colonnades. Where the colonnades are present by design, they form the five footway. Traditional shophouses may have between one and three floors. The shophouse was usually built between parallel masonry party walls. The upper part of the house was used as living quarters. To ensure air circulation, an inner "courtyard" (air-well) was placed midway between the front and rear of the house. Let's explore 7 charming shophouses interior in Singapore.
1.Urban-Bohemian, Loft-Inspired Conservation Shophouse Interior
Masculine lines and a neutral palette create a city retreat in this conservation shophouse interior in River Valley. Designed by Irene Toh of Spacious Planners, the home has an urban-bohemian, loft-inspired style to it. Homeowners Sarita Sies and her Slovak husband Michal Tyles decorated with paintings from Indonesia to jazz up the neutral palette. A happy mix of wood and plastic seats surround the dining table, adding variety to the decor. The couple also opted for maximum simplicity with their sparse stainless steel kitchen.
2.Multi-Million Dollar Peranakan Style Conservation Shophouse Interior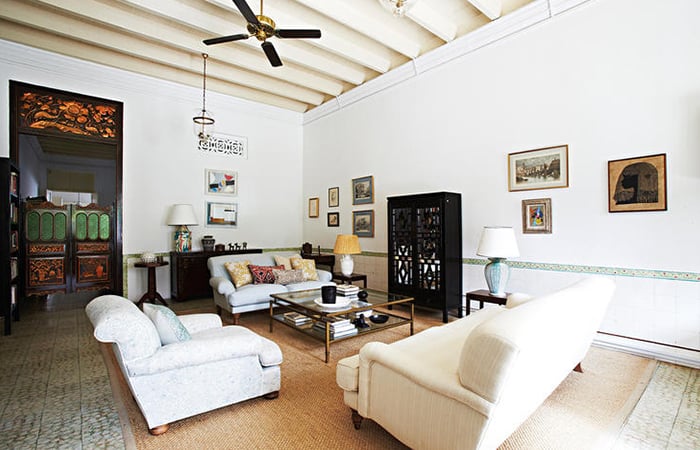 Rented by Elizabeth Acland and her fiance, this conservation shophouse interior is every bit as beautiful inside as it is outside. Situated along Emerald Hill, it retains some of its Peranakan heritage in fixtures and architectural features. The spacious living room is bright and airy, with high ceilings and light-coloured finishes. Soft furnishings and fabrics beautify the home further. A focal point is the beautifully-carved display cabinet built into the wall, which the couple now uses to store their stemware collection.
3.Refurbished Shophouse Interior With A Japanese-Scandi Theme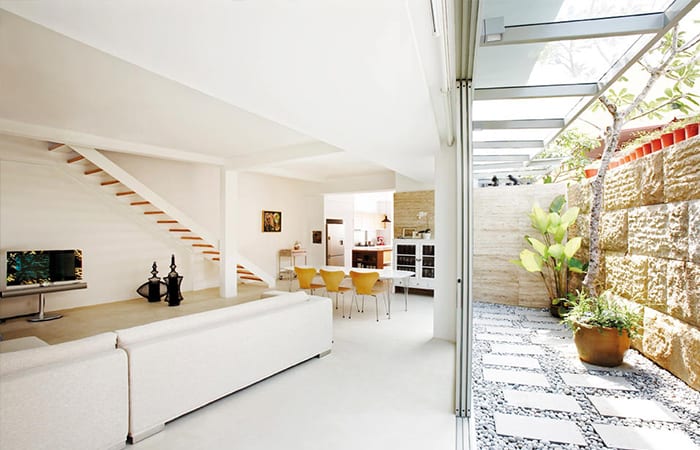 In a corner of Joo Chiat rests this 3,000sqf conservation shophouse interior– home to Tsok Wui Chong and Catherine Ong Ling of Md. Ma Design Consultants. The double-storey estate has been revamped to give it a contemporary zest without compromising on the beauty of its original architecture. The result: a cross between Japanese and Scandinavian decor amidst vintage tones. Rocky slabs of bricks and pebbled ground introduce some vibrancy to the quaint corner garden. Rustic bamboo strips add to the Oriental style of the space, and nostalgic, geometric floor tiles balance out the modern finishes.
4.Two-Storey Restored Shophouse Interior With Lots Of Character And Vintage Knick-Knacks
This Joo Chiat shophouse interior has a clean and contemporary design, layered with organic vintage pieces and decorated with quirky knick-knacks. Despite having vastly different tastes (one being partial to contemporary and colourful, the other preferring vintage), homeowners Eng Kwee and his wife Hwee Min reached a happy compromise with the design of the house. A highlight of the home is the spot beside their pool, lit by gorgeous daylight and cooled by natural ventilation.
5.Elegant Colonial Shophouse With Modern Shophouse Interior
The well-balanced look in this colonial shophouse interior creates a sense of formality, tradition and visual harmony. Restored by local studio Pencil Office, it takes on a decorative and stylish feel. Behind a wooden screen with a chic zig-zag pattern lies an open-concept living room with screed concrete floors and industrial-style brick walls. The living area, which used to be an open-air courtyard, is furnished with the original sculptural murals and wall panelling, coated entirely in white for a modern look. Also part of the original structure is the brick wall, which the homeowners turned into an art wall. The imposing look of the heritage building is further enhanced by a live-edge wooden table, complemented by vintage-style lamps.
6.Open-Concept Shophouse Interior With A White And Grey Palette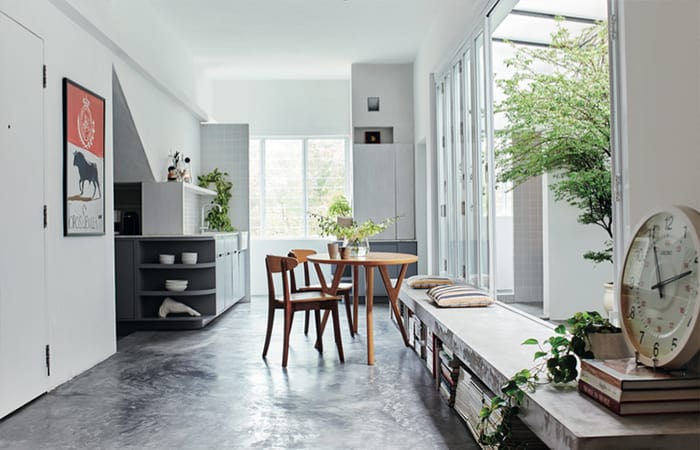 One might feel as if they have stepped into a downtown Manhattan loft when viewing this two-storey shophouse. Owned by fashion and design creative consultant, Cheah Wei Chun, the shophouse interior is designed to look and feel both like a home and a design studio. With original walls demolished to open up three bedrooms into an open concept space, living space and workspace coexist side by side, separated by an existing column. The colour scheme is predominantly grey and white, with a red accent discussion chair to add a dash of colour to the interior. The home also has a common bathroom that opens out to the air well, creating an outdoorsy feel.
7.White-Washed Conservation Shophouse Interior
This conservational shophouse interior along Blair road boasts unique decorative accents and sculptural details, all painstakingly preserved by the authorities, while still managing to look modern, classy and sophisticated. Redecorated by local firm Ong & Ong, the unit takes on a predominantly white theme throughout, injected with a sense of austerity and serenity. A generous kitchen island greets visitors upon entry, and beyond it, a central courtyard leads into the living spaces behind. Across the courtyard, an airy lounge awaits. By using only shades of white and green throughout the home, the spaces take on an almost meditative, zen-like quality. Furnishing in the home is kept simple, understated and monotoned, and bamboo plants direct the eye upwards, extending the high ceilings and making the place look even more spacious.