It's a city renowned for its gleaming glass skyscrapers. But of all the architectural styles in Singapore, none is as distinctive as the lavishly decorated shophouses. Take a stroll through Little India, Chinatown, Joo Chiat/Katong, or along Koon Seng Road. And you'll discover the uniquely Singaporean buildings that have become tourist attractions in their own right. Largely influenced by the Peranakan (Straits Chinese) culture, many shophouses built between the 1840s and mid-1900s, although there are six architectural styles. The Peranakan culture is unique to South East Asia and is a hybrid of Chinese, Malay, and Indian influences, with esoteric Portuguese, Dutch and Indonesian traces. It's that eclectic mix that makes many shophouses so eye-catching. The Peranakan's love of eye-popping pastels, like pink, turquoise, green and yellow, make these buildings easy to find. Let's discover the Colorful Shophouses In Singapore That You Should Know.
1.Colorful Shophouses In Singapore: Baba House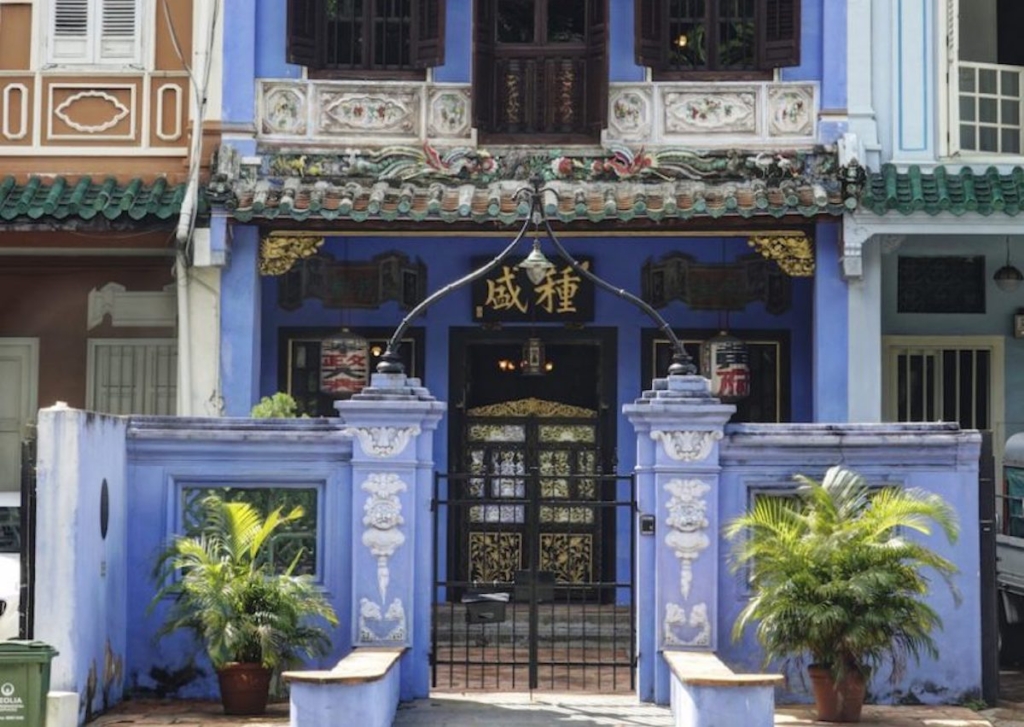 Built around 1895, 157 Neil Road is a three-storey townhouse located in Singapore's historic district of Blair Plain. A Peranakan* heritage house with exhibits just as vibrant as its bright blue exterior, NUS Baba House is a fantastic journey into the early 20th century home of a prominent Straits Chinese family. Once the ancestral home of a Peranakan Chinese family, namely the Wee family, the property acquired by the National University of Singapore (NUS) in 2006 with funds donated by Ms Agnes Tan in memory of her late father Tun Tan Cheng Lock, a Malaysian businessman and community leader.
In 2007, a project undertake to restore 157 Neil Road for presentation as a heritage house that contextualizes Peranakan Chinese material culture and aesthetics within a domestic setting. The interior setting takes visitors on an experiential trip into a Peranakan Chinese family home of the early 20th century. NUS Museum, NUS Department of Architecture, the Urban Redevelopment Authority, and The Peranakan Association of Singapore were the main partners in the conservation project. The house renamed NUS Baba House when it reopened in September 2008. NUS Baba House is part of the NUS Centre For the Arts and managed by NUS Museum.
Careful Restoration
After a two-year restoration, NUS Baba House opened in 2008. Today, it managed by the university, which sent in researchers to preserve its exterior and interiors architecture, including furnishing and household wares. Archaeologists and art historians from the university had the opportunity to carry out excavations and a study on the iconography of the building's ornamentation.
Rich Glimpses
You'll find these artifacts among the more than 2,000 Peranakan antiques and decorative items displayed on the first and second floors. Don't miss the temporary exhibitions on Peranakan themes at the gallery on the third floor.
Tip: Visits to NUS Baba House, are strictly by appointment, and visitors required to sign up in advance for a heritage tour.
2.Chinatown Heritage Centre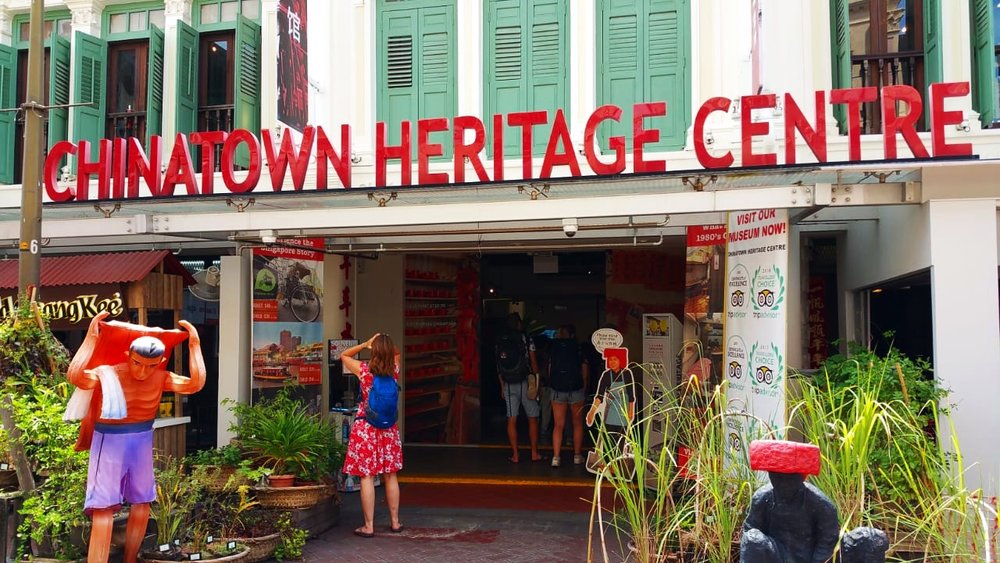 Colorful Shophouses In Singapore: Located within three beautifully-restored shophouses on Pagoda Street. The Chinatown Heritage Centre is a time capsule that holds stories of Singapore's past. Dedicated to documenting and recreating the lives of Chinatown's earliest residents. The space comprises six galleries, conserved living spaces, and a range of immersive experiences.
Colorful Shophouses In Singapore: A Step Back In Time
At the heritage centre, you'll be able to step back in time and gain insight into the lives of the traders, laborers, and immigrants who called Singapore. Also, the bustling Chinatown district—their home. Facets of these pioneers' lives are rendered in painstaking detail. Besides, ranging from their humble 'eight by eight' living quarters to objects that tell stories of love, sacrifice, and triumph. Visitors to Chinatown Heritage Centre will be able to retrace the journey of those who left their villages in China. Furthermore, escaping famine, flood, and civil unrest to find a better life in Singapore. Their journeys and their lives in Singapore can be experienced through a range of multisensory exhibits and interactive narratives.
Multi-sensory Experiences
Visitors will be able to step into the shoes of iconic Chinatown characters from the 1950s. Also, engage in seasonal craft workshops and explore the centre with multimedia guides. The guides are available in English, Mandarin, French, and Japanese. Olfactory displays of pungent opium and fragrant spices will bring you a whiff of the past, while larger-than-life photography props provide explorers with a fully immersive experience.
Besides its exhibits, the space holds various workshops and story-telling sessions for visitors who are on their own voyage of discovery. Those looking to bring home a memento or two can pick up a range of books, postcards, and prints by local artists like Patrick Yee and Francis Wong Hooe Wai.
3.Colorful Shophouses In Singapore: Clarke Quay/ Boat Quay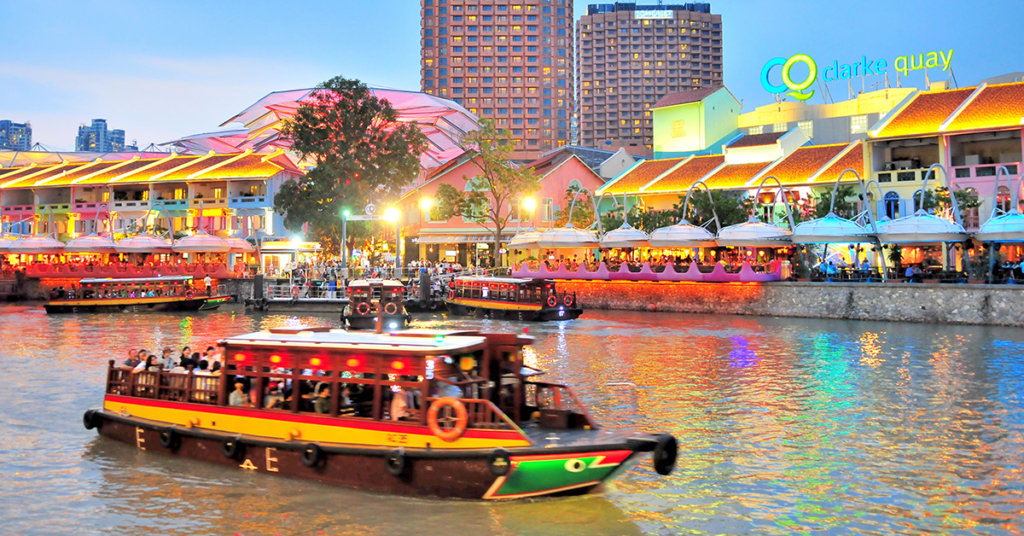 Boat Quay is one of the major nightlife spots in Singapore, but this was not always the case. Located between tourist-magnet Clarke Quay and the largely residential Robertson Quay. Boat Quay is the social waterfront directly in front of the Central Banking District's banking and financial towers. Currently, Boat Quay is undergoing a massive revamp that is scheduled to complete at the end of the year. Also, will result in a significant amount of waterside seating available to the public. As opposed to being forced to patronize the bars and restaurants that previously occupied the riverbank.
These days, the only boats that you will see on the Singapore River are the bumboats that run tours and serve as river taxis. The old shophouses and warehouses are now home to popular restaurants, bars. And, other entertainment venues that are frequented by the professionals that work in the CBD area, and tourists. Their colorful facades serve as a reminder of the importance of Boat Quay in Singapore's history.
4.House of Tan Teng Niah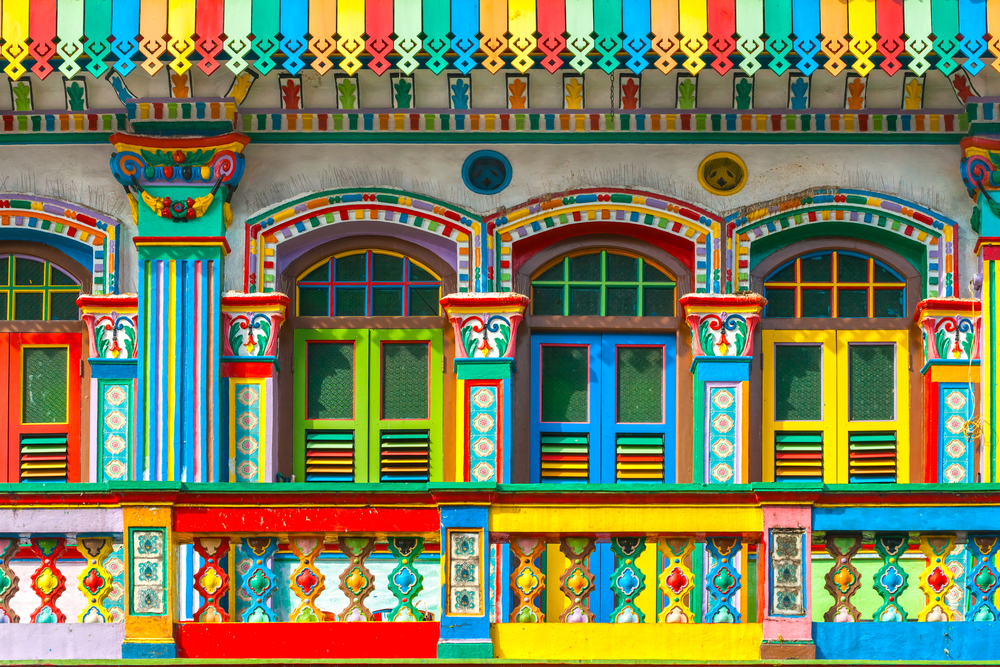 Colorful Shophouses In Singapore: This vividly colorful house constructed in 1900 by a local businessman named Tan Teng Niah. At the time, the neighborhood was an industrial zone. Tan's candy and rubber factories were located nearby. Besides, many of Singapore's ethnic-Chinese businessmen lived in similar villas.
Amid Singapore's rapid economic growth and social change during the 20th century. The neighborhood evolved into what is now known as Little India. Most of the old merchant houses razed to make way for modern commercial buildings and sleek skyscrapers. However, the Tan Teng Niah house survived. And during the 1980s, it underwent a full restoration to what people see today. Believed to be the last such house in existence, it now preserved under landmark status from the National Heritage Board.
Although the house's historical background is interesting, the key to its popularity among locals and visitors is its current appearance. The exterior painted in a rainbow riot of vivid colors, with every element. Each individual slat, molding, panel, and pilaster—in a different hue than its neighbor. An array of sky blue, avocado green, traffic-cone orange, highlighter yellow, and nail-polish pink shades adorn the house. Further embellishments beyond the psychedelic color-palette include gilded Chinese calligraphy, intricate floral lunettes, and a bamboo-tiled roof.
The house now used as a commercial space. And recent tenants have included a pharmacy and a business training school. Quite the ordinary activities, within one of the most extraordinary buildings in Singapore. The house of Tan Teng Niah is located at 37 Kerbau Road, a block away from Little India MRT Station.
5.Kampong Glam/ Arab Street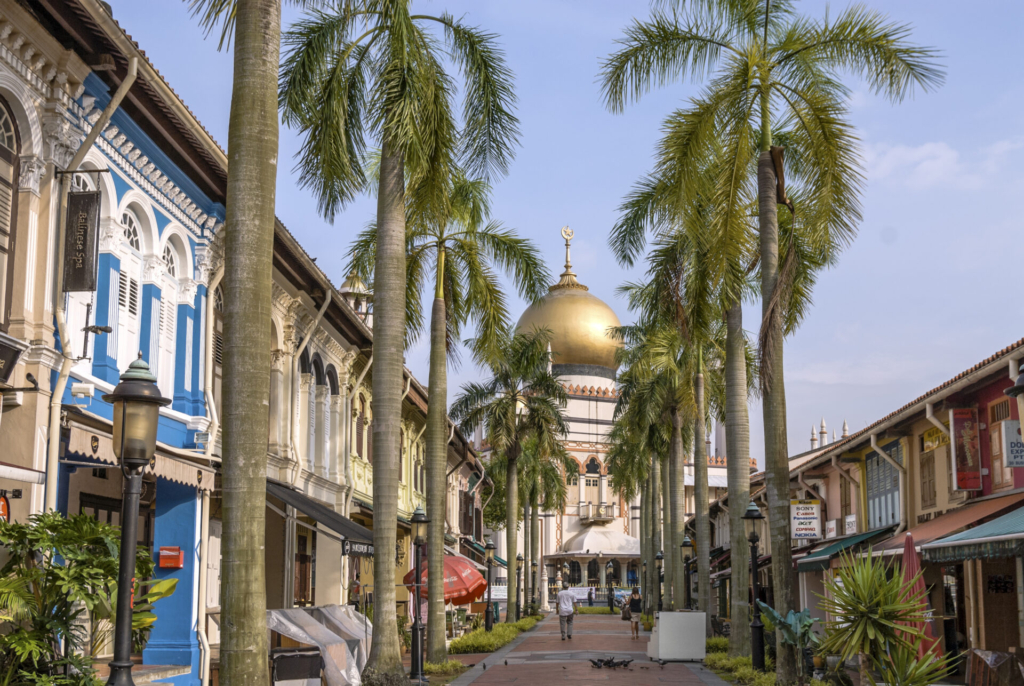 Historically one of Singapore's oldest urban quarters. Kampong Gelam is a neighborhood where age-old traditions and trendy lifestyle come together in a heady blend. The word 'kampong' means "compound in Malay, while "gelam" refers to the long-leaved paperbark tree. It commonly found in the area and used for boat-making, medicine, and even as a seasoning for food. The district has a history that dates back to Singapore's colonial era. The era when Sir Stamford Raffles allocated the area to the Malay, Arab and Bugis communities. Since then, the area has evolved into a haunt for hip travelers and connoisseurs of culture alike.
A world of culture and heritage
As you explore this historic district, let the golden dome of the majestic Sultan Mosque be the landmark that guides you along its busy streets and bustling byways. Built-in 1824 by Sultan Hussein Shah, this magnificent place of worship is one of Singapore's most prominent religious buildings. Tours of the mosque's grounds are available in a variety of languages.
For a deeper dive into the district's history, pay a visit to the Malay Heritage Centre. This institute of Malay heritage sits on the grounds of a former palace and boasts six permanent galleries. Also, as well as a range of exciting cultural activities. Get a glimpse into the intricacies of seafaring and traditional Malay seafaring vessels. Besides, learn about Kampong Gelam's status as a regional printing hub. Also, admire a range of beautifully-preserved artifacts once used by royalty. Street art aficionados in search of inspiration should also consider a visit to Gelam Gallery. Our island's first outdoor gallery is home to 30 works of street art and wall murals by local and international artists.
6.Colorful Shophouses In Singapore: Koon Seng Road/Joo Chiat
Colorful Shophouses In Singapore: The culturally-rich Joo Chiat and Katong areas are a gem to explore. Also, their highlights include these colorful shophouses which are bursting with character. Take your Instagram game to the next level with the iconic shophouses along 7 Koon Seng Road. Originally built in the 1920s, these pastel-colored structures were once inhabited by Peranakan Chinese. Peranakan are Straits-born people of Chinese and Malay/Indonesian heritage. The colorful shophouses which can be seen in the intricate detailing, motifs, and tiles adorning each home. Known to feature some of Singapore's prettiest houses, this street has attracted an international audience. Hence, you may get the chance to rub shoulders with other photographers and tourists alike while you're there. Step onto the five-foot way for a closer look at the intricate motifs and oriental flourishes. Source: Travel_Instinct