INTRODUCTION: PERANAKAN SHOPHOUSES IN SINGAPORE
Today only traces remain in Singapore of one of the world's most precious creole cultures, but the city-state is at last making efforts to preserve and showcase what's left. Straits-born Chinese – the Peranakan (which means "born of") – are largely the descendants of Chinese immigrants who came to Singapore in the 17th century and married local women. The Peranakan culture, a hybrid Southeast Asian culture of Chinese, Malay and Indian influences, also has esoteric Portuguese, Dutch and Indonesian traces. It's that eclectic mix that makes many shophouses so eye-catching. It's a city renowned for its gleaming glass skyscrapers, but of all the architectural styles in Singapore, none is as distinctive as the lavishly decorated shophouses. Take a stroll through Little India, Emerald Hill, Ann Siang Hill, Chinatown, Joo Chiat/Katong, or along Koon Seng Road, and you'll discover the uniquely Singaporean Peranakan Shophouses that have become tourist attractions in their own right. Largely influenced by the Peranakan (Straits Chinese) culture, many shophouses were built between the 1840s and mid-1900s, although there are six architectural styles. In keeping with the ancient Chinese belief of universal balance, the archetypal Singapore shophouse was built with symmetry and always follows the same pattern. Narrow and two-story and arranged in long terraces, they have a shop on the ground floor recessed behind a pedestrian walkway, known as "five-foot-ways" for shelter from Singapore's relenting heat and rain. The windows feel French, the shutters on the upper floor Spanish or Portuguese, the construction Malay and the decoration Chinese. And the Peranakan's love of eye-popping pastels, like pink, turquoise, green and yellow, make these buildings easy to find. There are only around 6,500 shophouses left in Singapore, with many destroyed to make way for high-rise buildings after Singapore's independence in 1965. Thankfully, those that remain are now protected by conservation rules, with strict guidelines for restoration and adaptive reuse enforced since 1989 in many historic enclaves across the city. Assimilation may have dulled its character as a distinct modern culture, but there are Peranakan touches all over Singapore, particularly in its food and architecture – as long as you know where to look. Let's discover 7 famous Peranakan Shophouses that you worth to visit in Singapore.
1. Emerald Hill 
Historic Emerald Hill, the site of nutmeg plantations until the early 1900s, is home to some of the most elegant and longest-surviving shophouses and terrace homes in Singapore. Located close to the Orchard Road shopping belt, Emerald Hill was once home to a large and wealthy Peranakan community, with many shophouses now converted into trendy wine bars, cafes, and commercial use premises. Many shophouses feature wooden pintu pagar, or half doors, often elaborately carved, as well as richly colored ceramic tiles, shuttered windows, and mirrors above doors to ward off evil spirits. Be sure to stop by No. 5 Emerald Hill Cocktail Bar, a 1910 Peranakan shophouse-turned-European-style bar, where you can drink cold beer and toss peanut shells on the floor (a long-standing tradition that started at Raffles Long Bar).
2. Baba House
While you're at Emerald Hill, check out the over 120 years old Baba House, a pre-war blue terrace house that was once the home of a wealthy Peranakan family whose head of the household is a shipping merchant, Wee Bin. It is Singapore's most famous Peranakan dwelling and has been restored back to its original shade of electric blue. It's actually one of Singapore's last remaining untouched Straits Chinese houses. You'll find it at 157 Neil Road. The heritage house is run by the National University of Singapore's Centre for the Arts. It was restored and reopened in 2007 as the home to Singapore's Peranakan Association, with heirlooms and interiors from the 1920s.
3. Koon Seng Road/Joo Chiat
Joo Chiat Place/Katong is one of Singapore's most iconic and storied neighborhoods. Once the home of coconut and cotton plantations, the area is now a tourist hot spot thanks to its colorful Peranakan architecture. Here you'll find pastel-decked, low-slung Peranakan-style shophouses dating back to the 1920s, with patterned tiles pressed on the walls along five-foot-ways. The real show stoppers are the rainbow-colored terrace houses found just a block away at Koon Seng Road. Since being gazetted for conservation in 1991, these Instagram sensations remain a major drawcard for tourists.
4. Chinatown
Chinatown has one of the biggest concentrations of restored shophouses in the Lion City,  influenced not just by southern Chinese traditions, but with European and Malay influences, including elaborate columns and louvered shutters. Pagoda Street is the gateway for visitors to Chinatown and it's here, in a restored shophouse, that you'll find the Chinatown Heritage Centre. Wander along Smith Street, South Bridge Road, Sago Street, and Trengganu Street in the heart of Chinatown to see other shophouses restored to their former glory. And if you're eating at Chinatown Food Street, be sure to look up and take in the amazing architecture there. On the fringe of Chinatown, there are lovingly-restored conservation shophouses at Amoy Street, Ann Siang Road, Tanjong Pagar Road and Keong Saik Road.
5. Little India/ Jalan Besar (House of Tan Teng Niah)
Wandering through the colorful neighborhood of Little India, nothing prepares you for the eye-popping surprise that is the House of Tan Teng Niah. While it's off-limits when it comes to entering, its exteriors make up for an eye-catching backdrop fit for the gram. Built-in 1900, these colorful sweet digs complete with eight rooms are the last surviving Chinese villa in Little India. With its kaleidoscopic paintwork, this two-story bungalow really stands out like a sore thumb. This rainbow-colored landmark is not a shophouse, but it's too good not to mention. The eight-room villa is the former home of well-to-do Chinese businessman Tan Teng Niah, who ran several confectionery factories in Serangoon Road and a rubber smoke-house at Kerbau Road. The house was later restored in the 1980s for commercial use. Throughout Little India – along Serangoon Road, Dalhousie Lane, Syed Alwi Road, and Sam Leong Road –  you'll discover many ornate shophouses. At last count, there were more than 200 shophouses lining Jalan Besar, the earliest built-in 1888. Head for Petain Road where you'll discover a dazzling row of 18 beautifully preserved Chinese-Baroque styled shophouses. With their Spanish glazed tiles, Chinese animal motifs, and Malay eaves, they are a throwback to the colonial era.
6. Kampong Glam/ Arab Street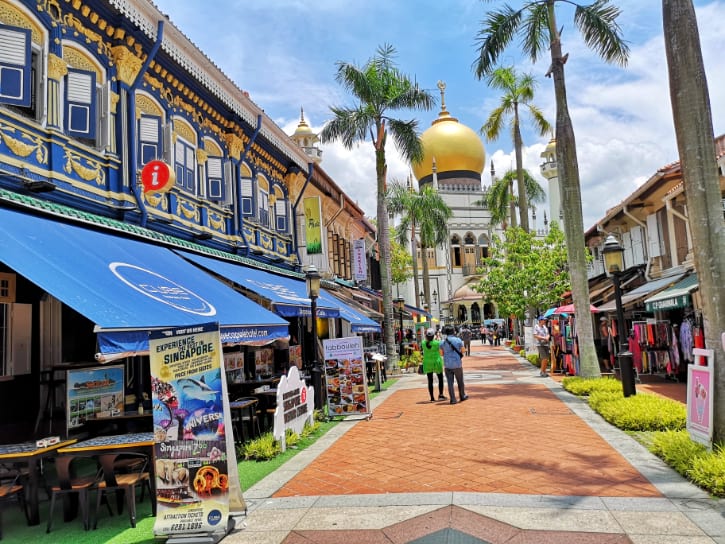 The first sultan of Singapore Sultan Hussein Shah built this magnificent mosque In 1824 next to his palace, Istana Kampong Gelam. It's the biggest mosque in the city, accommodating up to 5,000 people in mass prayer. With the Sultan Mosque (Masjid Sultan) as a backdrop, the shophouses of Bussorah Road, Arab Street, Baghdad Street, Kandahar Street, and trendy Haji Lane are some of the most picturesque north of the Singapore River. You'll see row after row of colorful shophouses in Kampong Glam, Singapore's oldest urban quarter. Many shophouses are home to design and IT companies, as well as art galleries, rug shops, restaurants, and bars.
7. Clarke Quay/ Boat Quay
The tourist magnets of Clarke Quay and Boat Quay are popular nightspots on the Singapore River, with restaurants and bars housed in many of the restored 19th-century shophouses and warehouses. The colorful facades serve as a reminder of the importance of Clarke Quay and Boat Quay in Singapore's early colonial history when they were significant trading ports. While you are exploring Clarke Quay, wander towards Coleman Bridge for a glimpse of one of Singapore's most distinctive buildings – the Old Hill Street Police Station, built-in 1934. With more than 900 windows, it's famed for its technicolor shutters and neo-Renaissance design. Most recently it has been home to Singapore's Ministry of Communications, as well as a string of well-known commercial art galleries.